Turkish Grammar: Future Tense
From Polyglot Club WIKI
---
How to Express the Future Tense in Turkish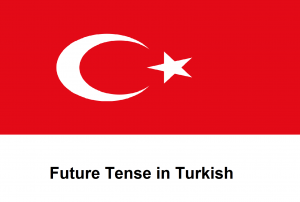 Merhaba everybody 😎
In today's lesson you will learn how to express the future tense in Turkish.
There are many ways to express future in Turkish but in general, we use the terminations -ecek and -acak.
Happy learning! :)
The conjugation of the future tense in Turkish is very similar to other European languages.
First, you need to take the root of the verb and add the future tense to the end. You can form the future tense in Turkish with the -ecek and -acak additions.

For example, you should start with the verb "to love" (sevmek). The verbal root is sev-. The future addition is, in the first singular, -eceğim. So it will be: sev + eceğim.
"I will always love you (Seni daima seveceğim)". You don't need to use "I" (ben) at the beginning of the sentence because you already express "I" with the -ecek addition. Only if you want to emphasize, you can add the first pronoun "I" (ben).
It works the same way as other European languages. For example, if you want to say "I love you" in Italian, you would say "ti amo". The verb is amare and the verb stem is -am. The first singular addition is -o. Namely the complete sentence is amo. It's the same in Turkish.

Here is the formula to use:
PRONOUNS + VERB + (ECEK / ACAK)

For instance,
Ben gideceğim. ➡ I will go.
Sen gideceksin. ➡ You will go.
O gidecek. ➡ He/She/It will go.
Biz gideceğiz.➡ We will go.
Siz gideceksiniz. ➡ You will go.
Onlar gidecek(ler). ➡ They will go.
Turkish
English
Pronouns
Suffixes
ben
-eceğim
I
will
sen
-eceksin
you
will
o
-ecek
he/she/it
will
biz
-eceğiz
we
will
siz
-eceksiniz
you
will
onlar
-ecekler
they
will
Ben geleceğim: I will come
Sen geleceksin: you will come
---
ENGLISH
TURKISH
PRONUNCIATION ENGLISH
I WILL COME
BEN GELECEĞİM
behn geh leh jeh eh ihm
YOU WILL COME
SEN GELECEKSİN
sehn geh leh jehk sihn
HE / SHE / IT

WILL COME

O GELECEK
oh geh leh jehk
WE WILL COME
BİZ GELECEĞİZ
bihz geh leh jeh eh ihz
YOU WILL COME
SİZ GELECEKSİNİZ
sihz geh leh jehk sih nihz
THEY

WILL COME

ONLAR

GELECEKLER

ohn lahr

geh leh jehk lehr

I WILL COME

HOME

BEN EVE

GELECEĞİM

behn eh veh

geh leh jeh eh ihm

YOU WILL COME

HOME

SEN EVE

GELECEKSİN

sehn eh veh

geh leh jehk sihn

HE WILL COME

HOME

O EVE

GELECEK

oh eh veh

geh leh jehk

WE WILL COME

HOME

BİZ EVE

GELECEĞİZ

bihz eh veh

geh leh jeh eh ihz

YOU WILL COME

HOME

SİZ EVE

GELECEKSİNİZ

sihz eh veh

geh leh jehk sih nihz

THEY WILL

COME HOME

ONLAR EVE

GELECEKLER

ohn lahr

eh veh geh leh jehk lehr
How to say "I will go" Future tense affirmative statements
[
edit
|
edit source
]
Turkish Grammar: How to ask "Will you go?" Future Tense
[
edit
|
edit source
]
Future Tense (Gelecek Zaman) in Turkish Language
[
edit
|
edit source
]