Turkish Culture: «Education»
From Polyglot Club WIKI
---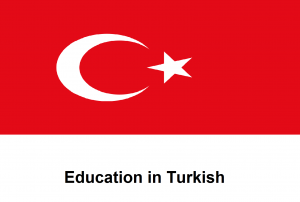 .
.
Hello everybody,
In today's lesson you will learn some useful vocabulary about ¨EDUCATION¨ in Turkish.
Feel free to edit this page by adding new words and expressions!
Good learning
.
.
Turkish National Education System
School year: from September to June (semester: February)
Duration of education: 8 years plus 4 years
compulsory schooling: 8 years (from 6 years old to 14 years old)
Official Education Preschool (0-6 years old) Kindergarten
[
edit
|
edit source
]
In Turkey, preschool education is optional and considered by the public as a supplement rather than an integral part of the education system, which includes the education of children 3 to 5 years.
Pre-school education is given in kindergartens, preparatory classes, application classes, nurseries, and homes by various ministries and institutions mostly attached to the Ministry of National Education.
Children can benefit from these institutions half or full-time. Families pay a certain sum to allow their children to benefit from early childhood education.
The majority of private kindergartens is often linked to state primary schools.
Concentrated in large cities, to fill the needs of mothers, who increasingly began to work. The purpose of this pre-school is to help children develop physically, mentally, individually, to develop their ability to use language and prepare them for primary school.
Primary school (6-14 years old)
[
edit
|
edit source
]
Public schools, private schools, special education schools.
The first 8 years of schooling is compulsory for all children from the age of six years and include education and training of children in the age 6-14.
This uninterrupted education is carried out in these schools and the student receives a primary education diploma.
You should know that the compulsory primary education for all boys and girls citizens, free in public schools, is confirmed in the Constitution, Basic Law for National Education and the Law of Primary and Preparatory.
Moreover, outside of public schools, there are many private primary schools distributing a paid education. In public schools students wear a uniform.
If the student has not achieved the desired results at the end of the year, he redoubles it.
The purpose of primary education is to enable children to acquire knowledge necessary bases, conduct and habits that will make him a good citizen, to prepare for life and give him a teaching function his tastes and abilities.
During the second half of the end of the last year of elementary school, students are informed by an educational guidance council of the subjects taught in high schools and choose their professional branch.
Secondary education (14-18 years)
[
edit
|
edit source
]
The goal of the school is to give the student a minimum of general knowledge and prepare to assume its responsibilities in a democratic society, to make it respectful of human rights and to prepare for higher education or a life conscientious professional office tastes, skills, capabilities and contribute to socio-economic and cultural development of the country.
The basic issue in Turkish education is, in fact, a short description of the Turkish people. Our language, which has a rich word structure, is famous for forcing the heads of foreigners who are starting to learn new :))
.