Language/Standard-latvian
Jump to navigation
Jump to search
---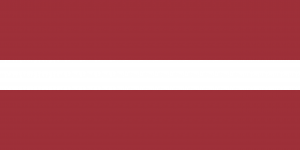 Hi Polyglots! 😃

Welcome to the Standard Latvian learning page!
You will find below many free resources to learn and practice this language.

Enjoy your learning journey with Polyglot Club! 😊
Facts about Standard Latvian
[
edit
|
edit source
]
Language code (ISO 639-3): lvs
Autonyms (how to write "Standard Latvian" in Standard Latvian): Latviešu / latviešu valoda
Other names for "Standard Latvian": Latviešu valoda,Latviski ("Lettisch","Lettish")
The Standard Latvian language is spoken in: Latvia

Latvian, also known as Lettish, is an Eastern Baltic language belonging to the Balto-Slavic branch of the Indo-European language family, spoken in the Baltic region. It is the language of Latvians and the official language of Latvia as well as one of the official languages of the European Union. There are about 1.3 million native Latvian speakers in Latvia and 100,000 abroad. Altogether, 2 million, or 80% of the population of Latvia, speak Latvian.
Source: https://en.wikipedia.org/wiki/Latvian_language
• Tēzaurs: Latvian dictionaries (meanings in Latvian), Latvian-German dictionaries (18th-20th centuries)
• Mūsdienu latviešu valodas vārdnīca: dictionary of contemporary Latvian
• Latviešu literārās valodas vārdnīca: dictionary of the literary Latvian language
• Letonika: Latvian-English dictionary & German, Lithuanian, Estonian, Russian, Latin
• Latvijas vēstures enciklopēdija: Latvian historical encyclopedia
• Lingea: Latvian-English dictionary & multilingual
• Iate: multilingual terminological dictionary (European Union)
• Latvian-Latgalian dictionary
• Loecsen: Latvian-English common phrases (+ audio)
• Goethe-Verlag: Latvian-English common phrases & illustrated vocabulary (+ audio)
• LanguageHelpers: Latvian-English vocabulary, common phrases & alphabet (+ audio)
• Latvian-English vocabulary by topics
• Latvian-Liv-English vocabulary: tourism
• Спортивный словарь [PDF] Russian-English-Latvian-German Sport vocabulary
• Wiktionary: etymology of Latvian words
• [database project]: Baltic etymology (Latvian, Lithuanian)
• Deutsch-lettisches Wörterbuch [PDF] Latvian-German dictionary, by Jēkabs Dravnieks (1910)
• Kreewu-latweeschu-wahzu wardnice: Russian-Latvian-German dictionary by Krišjānis Valdemārs (1872)
• Color names in Kreewu-latweeschu-wahzu wardnice, by Anitra Roze, in Acta baltico-slavica (2015)
• Lettisches Wörterbuch [PDF] Latvian-German dictionary, by Carl Christian Ulmann (1872)
• Deutsch-lettisches Wörterbuch [PDF] German-Latvian dictionary (1880)
• Lettisches Lexikon & Deutsch-lettisch: Latvian-German dictionary, by Gotthard Friedrich Stender (Gothards Frīdrihs Stenders) (1789)
• Vollständiges deutschlettisches Lexicon & Lettischdeutsches Lexicon: Latvian-German dictionary, by Jakob Lange (1777)
• Wörter-Büchlein, wie etzliche gebräuchliche Sachen auff Teutsch, Schwedisch, Polnisch und Lettisch zu benennen seynd (1705)
• Wörter-Büchlein, a German-Swedish-Polish-Latvian dictionary published in Riga in 1705 : introduction edited by Lennart Larsson (2011)
• The sea, especially the Baltic Sea, from the point of view of Latvians and Latvian language, by Ojārs Bušs, in Sea names: heritage, perception and international relations (2015)
• Word-formation pattern borrowing in Latvian by Andrejs Veisbergs, in Baltic Journal of English Language (2018)
• Zum Einfluss des Lettischen auf das Deutsche im Baltikum: on the influence of Latvian on German in the Baltic area, by Ineta Polanska, thesis (2003)
Free Standard Latvian Lessons
[
edit
|
edit source
]
Latvian Online Virtual Keyboard
[
edit
|
edit source
]
Nature and outdoor recreation — Popular sports and events — Healthy living and habits — Body parts and basic health issues — The genitive case and possession — Latvian music and dance traditions — Latvian language and literature — Accommodation and booking — Means of transport and directions — The subjunctive mood and wishes — Modern politics and society — Major historical events and figures — Jobs and professions — School subjects and degrees — Indirect objects and the dative case — The accusative case and direct objects — Latvian museums and exhibitions — Latvian art and architecture — Music, films and books — Free time activities and sports — Prepositions and their cases — Adverbs of time and location — Latvian nature and national parks — Latvian cities and regions — Using public transport — Buying groceries and household items — The past tense and other verb forms — Latvian verb conjugation in the present tense — Latvian folklore and crafts — Latvian cuisine
Contributors
---
Create a new Lesson