Spanish Vocabulary: Weather
From Polyglot Club WIKI
---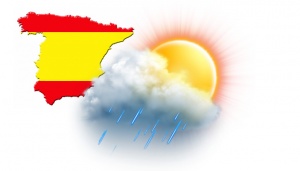 Here are some of the most common words used in Spanish to refer to the weather:
Sunny day: día soleado.
Rainy day: día lluvioso.
Cloudy day: día nublado.
Humid day: día húmedo.
Clear day: día despejado.
Snowy day: día nevado.
Hot day: día caluroso.
Cold day: día frío.
Foggy day: día con niebla.
Cool day: día fresco.
Windy day: día ventoso.
Wet day: día húmedo.
To rain: llover.
To hail: granizar
To snow: nevar.
To drizzle: lloviznar.
To dawn: amanecer.
To become night: anochecer.
Hoy está soleado (It's sunny today.)
Me gustaría beber chocolate caliente, hace mucho frío (I'd like to drink hot chocolate, the weather is very cold.)
Vámonos, está nublado y parece que va a llover (Let's go, it's cloudy and it looks like it's going to rain.)
Los granizos que cayeron, fueron los más grandes que haya visto. (The hailstones that fell were the largest I´ve ever seen).