Sanskrit Vocabulary: Resources
From Polyglot Club WIKI
---
SANSKRIT RESOURCE LIST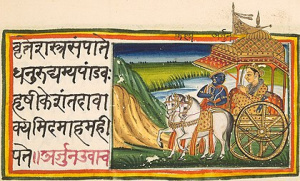 Hello! Do you want to learn Sanskrit but don't know where to start? Then I've got the perfect resource list for you and you can find its link below!
Let me know if you have any suggestions to improve it. Here is what the resource list contains;
"Handmade" resources on certain grammar concepts for easy understanding.
Resources on learning the script.
Websites to practice reading the script.
Documents to enhance your vocabulary.
Notes on Colloquial.
Music playlists
List of podcasts/audiobooks And a compiled + organized list of websites you can use to get hold of grammar!
Join South Asian Languages server for learning more about the Sanskrit Language:
Robert and Sally Goldman, Devavāṇīpraveśikā: An Introduction to the Sanskrit Language, Well-known and classic textbook. Thorough but not encyclopedic. Good readings and exercises. Gets all of the external sandhi out of the way in one chapter.
Madhav Deshpande, Saṃskṛtasubodhinī: A Sanskrit Primer
A. M. Ruppel, Cambridge Introduction to Sanskrit
Other Resources (resources that have not been classified yet)
[
edit
|
edit source
]
Contributors
---
Create a new Lesson