Russian Vocabulary: «Russian idioms»
From Polyglot Club WIKI
---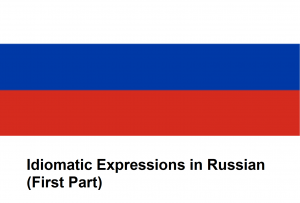 .
.
Hello everybody,
In today's lesson you will learn some useful ¨IDIOMATIC EXPRESSIONS (FIRST PART)¨ in Russian.
Feel free to edit this page by adding new words and expressions!
Good learning! :)
.
See part 2: https://polyglotclub.com/wiki/Language/Russian/Vocabulary/Russian-idioms-(2)
.
Ten russian Popular idioms # 1 - 10
№
Russian say it:
This means:
Picture:

БАБУШКА НАДВОЕ СКАЗАЛА

[babushka nadvoye skazala]

Grandmother said it ambiguously.

It's very doubtful, undefined; it remains to be seen.

E.g. "Бабушка надвое сказал кто победит в

этом забеге, обе лошади хороши".

2.
БЕЖАТЬ, ВЫСУНУВ ЯЗЫК

[bezhat' vysunuv yazyk]

To run with one's tongue hanging out.

To run fast without pausing for breath, to be breathless from running.

E.g. "Вчера я опоздал на работу, хотя и бежал, высунув язык".

3.
БЕЗ СУЧКА И <без> ЗАДОРИНКИ

[b'es suchka i b'es zadorinki]

Without a snag, without any uneveness or roughness.

Without any obstruction, difficulty or complication; smoothly.

E.g. "Презентация прошла без сучка и задоринки"!

4.
БЕЛАЯ ВОРОНА [b'elaya vorona]
A white crow.

Someone or something unusual, extraordinary; not like others; an outsider.

E.g. "Надень на прием галстук, иначе ты будешь выглядеть как белая ворона".

5.
БИТЬ В ОДНУ ТОЧКУ [bit' v odnu tochku]
To keep hitting the same spot.

To concentrate one's efforts on one thing when seeking to attain a specific goal.

E.g. "Адвокат бил в одну точку, добиваясь повторной экспертизы по делу".

6.
БИТЬ КЛЮЧОМ [bit' kl'uchom]
To well up, to bubble.

To be in full operation; to proceed in a lively manner.

E.g. "Жизнь на озере била ключом: птицы сидели на гнездах, ныряли в воду и летали вокруг".

"На курорте жизнь бьет ключом: все отдыхают и веселятся".

7.
БИТЬСЯ КАК РЫБА ОБ ЛЁД [bittsa kak ryba ob l'od]
To beat against the ice like a fish.

To struggle desperately.

E.g. "Иван бился как рыба об лед на работе, но денег все равно не хватало".

8.
БЛУЖДАТЬ В ПОТЕМКАХ [bluzhdat' v pot'ornkakh]
To grope in the dark.

To be without knowledge in some particular matter; to understand something vaguely; to act blindly.

E.g. "Алхимик блуждал в потемках, пытаясь получить золото".

9.
БОЛЬНОЕ МЕСТО [bol'noye m'esto]
A sore spot.

A matter that easily upsets one or about which one is sensitive; something that causes anxiety.

E.g. "Больное место нашего форварда - перекладина ворот. Он всегда попадает в нее.".

10.
БОЛЬНОЙ ВОПРОС [bol'noy vopros]
A sore question.

An urgent problem that is difficult to solve.

E.g. "Больное вопрос для нашего шефа - высокие расходы компании".
Note: "You shouldn't use these russian idioms neither in a formal nor in a business letter, but you can use them in conversations with your russian friends and you will hear: "Wow, you know Russian very well"!
Here are some comments about this lesson on Reddit:
https://www.reddit.com/r/russian/comments/7qrxh5/great_russian_idioms/