Russian Grammar: «А vs Но»
From Polyglot Club WIKI
---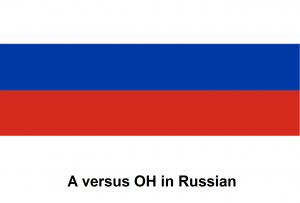 .
Hello everybody,
In today's lesson you will learn when to use A or HO in Russian.
Feel free to edit this page by adding new words and expressions!
Good learning! :)

There are many conjunctions in the Russian language but the most difficult ones for foreigners to use are following: «А», «Но».
There are difficult because it's very hard to decide which one to use in the appropriate situation, it depends on what speaker wants to say or express.
Despite the fact that there's a big difference between these two, Russian learners always face a great deal of problems when picking up which one to use.
This is why we've made this wiki-lesson. 
Let's talk about 'A' and 'Но' as the most difficult and meaningful conjunctions.
When choosing a conjunction remember the following statements:
'Но' means that something has occurred is different from the things we expected to happen.  

For example:
I called him, but he didn't answer - Я позвонил ему, но он не ответил.
So you expected that he would respond, but he did not. In English they use "but" to express this meaning. The Russian use 'Но' to express contradiction as in example:
My car is very old, but good.  – Моя машина очень старая, но хорошая.
So despite the fact that it's old, it's still good. When we say that a car is old we expect it to be bad, but it's still good, so we use 'Но' in this case.  In the next example:
I have a car, but not a computer - У меня есть машина, но нет компьютера.
Again, this is contradiction: I have THIS, but not THAT.
Another example:
Her salary is low but she likes her job - У неё маленькая зарплата, но она любит свою работу.
So her salary is low and we expect her to hate her job due to the fact but she does not hate it, but loves it!  
To sum it up, the main meaning of 'Но' is a contradiction to expectations.
Now, we use the 'А' conjunction in the comparison constructions like
I study Russian and you study English - Я изучаю русский, а ты английский
My name is Boris and your name is Sasha - Меня зовут Борис, а тебя Саша.
My name is Boris, and what's your name? - Меня зовут Борис, а тебя?
The 'A' conjunction always tells us some new or something different from the things were mentioned before.

Another way of using 'A' is to add some new information, let's say in purpose to change the subject:
Oh, by the way, what time is it, I am late! - А, кстати, сколько сейчас времени? Я опаздываю!
Remember also that in negative constructions like:
'This is a house, not a car' - Это дом, а не машина
We have to use 'A' conjunction.
So the main difference between 'A' and 'Ho' is that 'A' is not a contradiction, it simply adds some new information into the conversation, whereas 'Ho' is a contradiction to expectations.
Great. Now let's have a look at some exercises to train our skills. Let's do a small quiz.
А или НО
У меня есть машина, (1) нет дома
Это мой друг, (2) это мой враг.
У меня высокая зарплата, (3) я не люблю свою работу
У тебя есть брат, (4) у меня есть сестра
Я позвонил президенту, (5)  он сказал, что он больше не президент.
Я хотел купить учебник, (6) забыл деньги дома.
Эта машина очень старая, (7) ездит прекрасно
Этот поезд выезжает в 10, (8) тот в 12.
У меня нет учебника, (9) у тебя есть.
Этот кинотеатр хороший, (10) очень дорогой.
So, in this small lesson we've discussed two very important conjunctions in the Russian Language.  Complete the exercise above and leave your comments if you have any questions about that or any other topic. Thank you for your attention!
ENGLISH
PRONUNCIATION

ENGLISH

RUSSIAN
PRONUNCIATION BRAZILIAN

PORTUGUESE

BRAZILIAN

PORTUGUESE

I CALLED HIM, BUT

HE DIDN´T ANSWER

yah pahs vah nihl ih mou, noh ohn nyeh

aht vyeh tihl

Я ПОЗВОНИЛ ЕМУ,

НО ОН НЕ ОТВЕТИЛ

iá pasvaníl emú,

no on níê atvíêtiL

EU LIGUEI PRA ELE MAS ELE NÃO RESPONDEU
MY CAR IS VERY

OLD, BUT GOOD

mah yah mah shih nah oh chihn stah rah yah, noh hah roh shah yah
МОЯ МАШИНА ОЧЕНЬ СТАРАЯ, НО ХОРОШАЯ
maiá machína ôtchin

staráia, no Horôcháia

MEU CARRO É

MUITO VELHO, PORÉM BOM

I HAVE A CAR, BUT

NOT A COMPUTER

ou mih nyah yehst mah shih nah, noh nyeht kahm pih you tih rah
У МЕНЯ ЕСТЬ МАШИНА, НО НЕТ КОМПЬЮТЕРА
u miniá iêst machína, no níêt kampíutira
EU TENHO UM CARRO, NÃO UM COMPUTADOR
HER SALARY IS LOW

BUT SHE LIKES HER JOB

ou nee yoh mah lyeh kah yah

zahr plah tah, noh ah nah lih you beet svah you rah boh tou

У НЕЁ МАЛЕНЬКАЯ ЗАРПЛАТА, НО ОНА ЛЮБИТ СВОЮ РАБОТУ
u niiô malíenkaia zarpláta, no aná líubit sváiu rabôtu
O SALÁRIO DELA É POUCO MAS ELA GOSTA DO TRABALHO
I STUDY RUSSIAN AND

YOU STUDY ENGLISH

yah ih zou chah you roos kee, ah tuh ahn glees kee
Я ИЗУЧАЮ РУССКИЙ,

А ТЫ АНГЛИЙСКИЙ

iá izutcháio ruskíi,

a tâ anglískii

EU ESTUDO RUSSO E VOCÊ ESTUDA INGLÊS
MY NAME IS BORIS AND

YOUR NAME IS SASHA

mih nyah zah voot boh rihs,

ah tih byah sah shah

МЕНЯ ЗОВУТ БОРИС,

А ТЕБЯ САША

miniá zabút bóris,

a tebiá sácha

ME CHAMO BORIS E VOCÊ SE CHAMA SASHA
MY NAME IS BORIS, AND

WHAT´S YOUR NAME ?

mih nyah zah voot boh rihs, ah tih byah ?
МЕНЯ ЗОВУТ БОРИС,

А ТЕБЯ ?

miniá zavút bóris,

a tebiá ?

ME CHAMO BORIS, E VOCÊ ?
---------------------------------
OH, BY THE WAY, WHAT TIME IS IT ? I´M LATE
ah kihs tah tih, skohl kah sih chahs vrih mih nih ?

yah ah pahs duh vah you

А, КСТАТИ, СКОЛЬКО СЕЙЧАС ВРЕМЕНИ ?

Я ОПАЗДЫВАЮ

a, kistáti, skôLka

ci tchás vriminí ?

iá apasdâváiu

E, A PROPÓSITO, QUE HORAS SÃO ? EU TÔ ATRASADO
THIS IS A HOUSE,

NOT A CAR

eh tah dohm, ah nyeh

mah shih nah

ЭТО ДОМ, А НЕ

МАШИНА

éta dôm, a níê

machína

ISSO É UMA CASA. NÃO UM CARRO