Language/Portuguese
Jump to navigation
Jump to search
---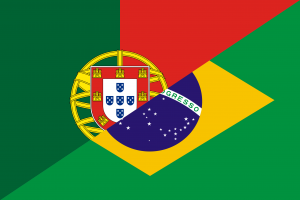 Hi Polyglots! 😃
Welcome to the Portuguese learning page!
You will find below many free resources to learn and practice this language.
Enjoy your learning journey with Polyglot Club! 😊
Language code (ISO 639-3): por
Autonyms (how to write "Portuguese" in Portuguese): Português / Língua portuguesa
Other names for "Portuguese": Português, Portugais, Purtagaalee
The Portuguese language is spoken in: Portugal
Portuguese is a Romance language originating in the Iberian Peninsula of Europe. It is the sole official language of Portugal, Angola, Mozambique, Guinea-Bissau, Cape Verde, São Tomé and Príncipe, and Brazil, while having co-official language status in East Timor, Equatorial Guinea, and Macau. A Portuguese-speaking person or nation is referred to as "Lusophone" (lusófono). As the result of expansion during colonial times, a cultural presence of Portuguese and Portuguese creole speakers are also found around the world.

Portuguese is part of the Ibero-Romance group that evolved from several dialects of Vulgar Latin in the medieval Kingdom of Galicia and the County of Portugal, and has kept some Celtic phonology in its lexicon.
https://en.wikipedia.org/wiki/Portuguese_language
• Michaelis: Portuguese dictionary & Portuguese-English & Spanish, French, Italian, German
• Universal priberam, Portuguese dictionary: meanings & etymology ; grammar & verb conjugation
• Porto editora: Portuguese dictionary & Portuguese-English & Spanish, French, Italian, German, Dutch
• Léxico: Portuguese dictionary: meanings & quotations
• Aulete: Portuguese dictionary (Brazilian): meanings
• Dicio: Portuguese dictionary (Brazilian): meanings
• Reverso: Portuguese-English dictionary & words in context
• WordReference: Portuguese-English & Portuguese-Spanish dictionary
• Linguee: Portuguese-English translation of a phrase
• Compara: Portuguese-English translation of phrases with words in their context
• Iate: multilingual terminological dictionary (European Union)
• Portal da língua portuguesa: new spelling, Portuguese verb conjugation
• Dicionário de gentílicos e topónimos: place names & inhabitant names
• Dicionário de estrangeirismos: foreign words used in Portuguese
• Vocabulário ortográfico da língua portuguesa: correct spelling, Academia brasileira de letras (2009)
• Dicionário etimológico resumido (Etymological dictionary) by Antenor Nascentes (1966)
• Sobre arabismos africanos no Dicionário etimológico resumido, by Samantha de Moura Maranhão & Francisco Barroso De Sousa, in Letras Escreve (2015)
• Portuguese English visual dictionary (2010)
• Portuguese minimum core vocabulary list (2013)
• Vocabulário básico de recursos naturais e meio ambiente: vocabulary of natural resources and environment (2004)
• Dicionario de termos tecnicos da assistencia social: dictionary of social welfare technical terms (2007)
• CorpusDoPortuguês: corpus linguistics of Portuguese (13th-20th): words in their context
• Linguateca: corpus linguistics of Portuguese, from the newspaper Público
• Instituto Camões: conversation guide, common phrases (+ audio)
• Loecsen: Portuguese-English common phrases (+ audio)
• Goethe-Verlag: Portuguese-English common phrases & illustrated vocabulary (+ audio)
• BBC: useful expressions (+ audio)
• Insermob: English-French-Portuguese vocabulary for the tourists
• Tatoeba: sentences in Portuguese, with translation (audio)
• YouTube (Learn Portuguese now) common phrases in Brazilian Portuguese (video)
• Dicionário aberto de calão e expressões idiomáticas: Portuguese slang dictionary & idiomatic expressions, by José João Almeida (2019)
• Lista de falsos amigos português-espanhol: Portuguese-Spanish false friends, in A Folha, Boletim da língua portuguesa nas instituições europeias (2015)
• Sobre algunos falsos cognados español-portugués, factores lingüísticos y sociales reflejados en la semántica : about the Spanish-Portuguese false friends, by Ignacio Vázquez, in Epos revista de filología (2011)
• Diccionario illustrado da lingua portugueza: dictionary of the Portuguese language by Henrique Brunswick (1898)
• Diccionário da língua portuguèsa: dictionary of the Portuguese language by Cândido de Figueiredo (1899) A-I & J-Z
• Diccionario da lingua portugueza: dictionary of the Portuguese language by Eduardo de Faria (1850) A-D - C-E - F-N - O-Z
• Diccionario da lingua portugueza: dictionary of the Portuguese language by António de Moraes Silva (1813) A-E & F-Z or online search
• Diccionario da lingua portugueza: dictionary of the Portuguese language by Bernardo de Lima & Melo Bacellar (1783)
• Diccionario portuguez e latino by Carlos Folqman (1750)
• Vocabulario portuguez e latino by Rafael Bluteau (1728)
• Dictionary of the Portuguese and English Languages by Antonio Vieyra, improved by Jacinto Dias do Canto (1827)
• Colloquial Portuguese or The words and phrases of every-day life, by Alexander d'Orsey (1900)
• Portuguese self-taught with phonetic pronunciation, by Euclides da Cunha (1904)
• Guide of the conversation in Portuguese and English, by José da Fonseca & Pedro Carolino (1855)
• Diccionario portugués-español: Portuguese-Spanish dictionary by Frederico Duarte Coelho (1911)
• Vestigios da lingoa arabica em Portugal ou Lexicon etymologico das palavras, e nomes portuguezes, que tem origem arabica: Portuguese words af Arabic origin, by João de Sousa (1830)
• Remains of Arabic in the Spanish and Portuguese Languages by Stephen Weston (1810)
• Tentativa etymologico-toponymica ou Investigação da etymologia ou Proveniencia dos nomes das nossas povoações by Pedro Augusto Ferreira (1907): I & II - III
• Portuguese & Brazilians proverbs (list)
• Alguns provérbios, máximas e frases feitas de origem latina que são bastante comuns entre nós : Latin locutions translated into Portuguese, by José Pereira da Silva
• La etimología y los diccionarios portugueses by Ignacio Vázquez, in Anuario de estudios filológicos (2011)
• Comparação entre o léxico catalão e português, semelhanças e diferenças, by Ignacio Vázquez (2012)
• Alguns francesismos em português (galicismos) by Ignacio Vázquez Diéguez (2015)
• Quinientos años de diccionarios en portugués by Ignacio Vázquez Diéguez (2011)
• O vocabulário político-ideológico da Gazeta de Lisboa no século XVIII: study of the vocabulary of the first printed newspaper in Portuguese, by Mariana Giacomini Botta, thesis (2011)
https://www.lexilogos.com/english/portuguese_dictionary.htm
Portuguese Online Virtual Keyboard
[
edit
|
edit source
]
Brazilian vs Portuguese Accent — Emergency Services — Medical Vocabulary — Indefinite Pronouns — Transportation Customs — Ground Transportation — Air Travel — Eating Customs — Drink — Angola — Cape Verde — Portugal — Brazil — Conditional Tense — Personality Descriptions — Physical Descriptions — Family Members — Ser and Estar — Irregular Verbs — Regular Verbs — Basic Phrases — 0 to A1 Course — Idiomatic Expressions — How to Use be — How to say Good Bye? — Health — Give your Opinion — Geography — Future Tense — Education