Language/Polish/Vocabulary/How-to-Say-Hello-and-Greetings
Jump to navigation
Jump to search
---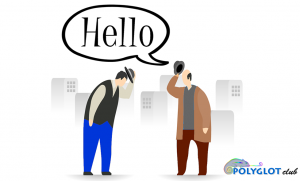 🤗 Polish Greetings for Everyday Life
Hi Polish learners! 😃
Do you want to learn how to say "Hello" in Polish?
Greetings are an important part of any language because they allow you to connect and communicate with others.
If you're planning a trip to the country or are trying to learn Polish, keep reading to discover some of the most important greetings.
Let's get started! 🤗
General Greetings in Polish
[
edit
|
edit source
]
| English | Polish |
| --- | --- |
| general greeting | Dzień dobry |
| afternoon and evening greeting | Dobry wieczór |
| informal greeting | Cześć |
| informal greeting | Witam |
| informal greeting | Witaj |
| informal greeting | Dzień doberek |
| informal greeting | Cześć i czołem |
| informal greeting (Colloquial) | Siema |
| informal greeting (Colloquial) | Elo |
| general greeting, used less often | Czołem |
| how are you? | Jak się masz? |
| how are you? | Jak się miewasz? |
| how are you? formal, spoken to a man | Jak się Pan miewa? |
| how are you? formal, spoken to a woman | Jak się Pani miewa? |
| reply to Jak się masz, Jak się Pan miewa, Jak się Pani miewa, and Jak się miewasz | Dziękuje dobrze |
| reply to Jak się masz, Jak się Pan miewa, Jak się Pani miewa, and Jak się miewasz | Dobrze |
| how you are? informal | Sie masz? |
| how are you? informal | Sie ma? |
| how you are? informal | Jak leci? |
| how you are? informal | Co słychać? |
| how you are? informal | Co u Ciebie słychać? |
| greeting used between male friends when shaking hands | Graba |
| greeting used between male friends when shaking hands | Grabula |
| greeting used between male friends when shaking hands | Strzała |
| greeting used between male friends when shaking hands | Strzałeczka |
| greeting used between male friends when shaking hands | Witka |
| religious greeting used by Catholics | Pochwalony |
| religious greeting used by Catholics | Szczęść Boże |
| older greeting, no longer used | Serwus |
Witam / witaj (cie) - welcome greetings in Polish
[
edit
|
edit source
]
English
Polish
you are welcome

["we invite you"]

zapraszamy
hello, hi / bye
cześć  
How are you?
Jak się masz?

Jak się macie?

What is happening?
Co u ciebie?

Co u was?

["What can be heard?"]
Co słychać?
well
dobrze  
have a nice day
miłego dnia
("good day")
dzień dobry  
good evening
dobry wieczór  
good night
dobranoc  
goodbye
do widzenia  
the kisses
buziaki
the love
miłość  
I love you
Kocham cię  
the smile
uśmiech
Introduction Greetings in Polish
[
edit
|
edit source
]
English
Polish
imię  
first name
Jak masz na imię?
What's your first name?
Mam na imię ...
My first name is ...
nazwisko rodowe,

nazwisko  

family name,

last name

Jak się nazywasz?  
What's your last name?
Nazywam się ...
My last name is ...
pan  

pani  

panna

mister

madam

miss
Polite Greetings in Polish
[
edit
|
edit source
]
| English | Polish |
| --- | --- |
| proszę   | please |
| dziękuję   (bardzo) | thanks (so much) |
| z przyjemnością | with pleasure |
| nie ma za co   | be welcome |
| dobra robota! | good job, well done! |
| pozdrawiam | greetings, regards |
Where do you come from Greetings in Polish
[
edit
|
edit source
]
| English | Polish |
| --- | --- |
| Jestem Polakiem/Polką | I am a Polish (man/woman) |
| Jestem Francuzem/Francuzką | I am a French (man/woman) |
| Mówię po francusku | I speak French |
| Nie rozumiem   po polsku | I don't understand Polish |
| (Czy) mówisz po angielsku? | Do you speak English? |
| tak   | yes |
| nie   | no |
| przepraszam   | sorry, excuse me |
| Pomocy! | Help! |
Learn Polish - How to Greet People in Polish - YouTube
[
edit
|
edit source
]
How to say Hello and Goodbye in Polish - YouTube
[
edit
|
edit source
]
Contributors
---
Create a new Lesson