Language/Polish
Jump to navigation
Jump to search
---
Polish Language Lessons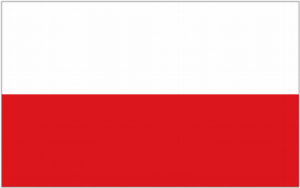 Hi Polyglots! 😃

Welcome to the Polish learning page!
You will find below many free resources to learn and practice this language.

Enjoy your learning journey with Polyglot Club! 😊
Language code (ISO 639-3): pol
Autonyms (how to write "Polish" in Polish): Język polski / Polszczyzna
Other names for "Polish": Polština, Polnisch, Lengyel, Lenku
The Polish language is spoken in: Poland

Polish is a West Slavic language of the Lechitic group, written in Latin script. It is spoken primarily in Poland and serves as the native language of the Poles. In addition to being the official language of Poland, it is also used by Polish minorities in other countries. There are over 50 million Polish speakers around the world – it is the sixth-most-spoken language of the European Union.

Polish is subdivided into regional dialects and maintains strict T-V distinction pronouns, honorifics and various forms of formalities when addressing individuals.
https://en.wikipedia.org/wiki/Polish_language
• Słownik języka polskiego: Dictionary of the Polish language & spelling, declension
• Wielki słownik języka polskiego: Dictionary of the Polish language
• DobrySłownik: Polish dictionary, meanings, synonyms
• Lingea: Polish-English dictionary & multilingual
• Lektorek: Polish-English dictionary & noun declension (University of Pittsburgh)
• Iate: multilingual terminological dictionary (European Union)
• Sjp: spelling dictionary & noun declension
• Słownik tematyczny angielsko-polski: English-Polish thematic dictionaries (for students & everyday life) (2014)
• Poltran: Polish-English translation
• Translatica: Polish-English translation
• Polish lexical minimimum: basic vocabulary [PDF]
• English-Polish phrase guide by Oscar Swan (1993) [PDF]
• Miejski: Polish slang dictionay
• Loecsen: Polish-English common phrases (+ audio)
• Goethe-Verlag: Polish-English common phrases & illustrated vocabulary (+ audio)
• Shtooka: Polish words, with translation (audio)
• Pwn: encyclopaedia of the Polish language
• Atlas roślin Polski: atlas of plants & flowers of Poland
• Burt's Polish-English dictionary: Polish-English & English-Polish, by Wadysaw Kierst & Oskar Callier (1900)
• Complete Dictionary Polish and English (Dokładny słownik polsko-angielski) by Erazm Rykaczewski (1851)
• Manual of Polish and English conversation by Erazm Kasprowicz & Julius Cornet (1912)
• Słownik etymologiczny języka polskiego: etymological dictionary of the Polish language, by Aleksander Brückner (1927) (+ other version)
• Słownik języka polskiego [DjVu] dictionary of the Polish language, by Jana Karłowicza, Adama Kryńskiego, Władysława Władysława Niedźwiedzkiego (1900-1927) A-G - H-M - N-Ó - P-Proż - Próba-R - S-Ś - T-Y - Z-Ż
• Słownik języka polskiego: dictionary of the Polish language, by Samuel Linde (1854) A-F - G-L - M-O - P - R-T - U-Z or 1807 edition [DjVu]
• Słownik synonimów polskich: dictionary of synonyms, by Adam Stanisław Krasiński (1885) A-P - R-Z
• Basic explanation of surname endings (-ski…)
• A historical overview of Polish lexicography: from multilingual to monolingual dictionaries, by Włodek Gruszczyński & Zygmunt Saloni, in Studies in Polish Linguistics (2013)
https://www.lexilogos.com/english/polish_dictionary.htm
Polish Online Virtual Keyboard
[
edit
|
edit source
]
Contributors
---
Create a new Lesson