Nepali-individual-language Vocabulary: «Useful Sentenses»
From Polyglot Club WIKI
---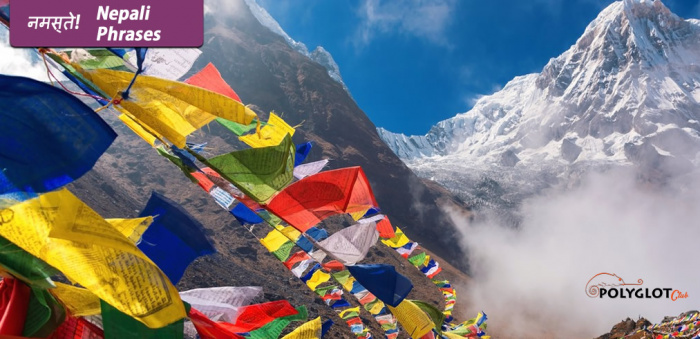 In this lesson, you will learn some vocabulary you will be able to use during a trip to Nepal.
Nepali is the official language and is spoken by the entire population.
The Nepalese will be touched and delighted to see you make such an effort to learn their language. Your relations with the population will be all the more sincere.
Start without fear, nobody will hold you rigor of your faults or your approximate pronunciation.
Good news: except in some very remote villages, everyone speaks English in Nepal.
As you see on the map below, there are as many languages ​​spoken in Nepal as there are ethnic groups. Nepali is the most spoken language but you'll find people speaking languages like Newari, Tibetan, Bhojpuri, Maithili... We'll teach you only Nepali here.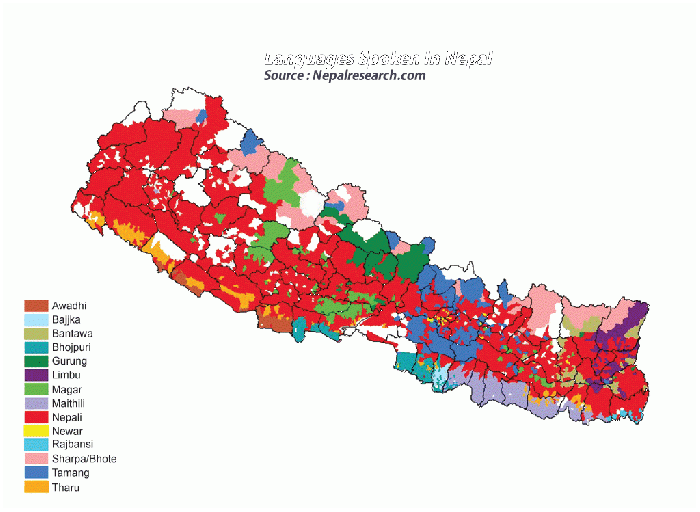 Basic Expressions / Common Words
[
edit
|
edit source
]
| English | Nepali |
| --- | --- |
| Hello / good night | Namaste |
| How are you ? | San tché tcha ? |
| Very well thank you and you ? | Malai sanchai chha, tapai ? |
| Do you speak French / English? | Tapai angrejibolna saknuhunchha ? |
| I understand / I do not understand | Mabujhchu / Maile bujhina |
| sorry | Birsi dinu |
| Goodbye | Namaste |
| welcome | Namaste |
| Thank you so much | N'existe pas en Népali |
| Excuse me / SVP | Hajur |
| I am French | Malai phaansisi |
| My name is… | Mero naam... ho |
| No thanks | Hoïna |
| Yes No | Ho / Hoïna |
| You're welcome | Kehi / Timila'i svagata cha |
| English | Nepali |
| --- | --- |
| How much is it ? | Kati  ? |
| It's very cheap | Sasto |
| It's too expensive ! | Mahango |
| Can you lower the price? | Tapa'iṁ mulya kama garna sakchan ? |
| I would like to buy ... this, this one! | Kinnunuparyo |
| I love / I hate | Malai yo ramro lagyo / Malai yo ramro lagena |
| Money | Paisa |
| I'm just watching. | Ma sirpha khojiraheko chu |
| English | Nepali |
| --- | --- |
| I would like to go… | Ma... ma janchhu |
| Plane | Hwaaï-dzahaadz |
| Boat | Nau |
| Train | Rela |
| Taxi | Tyakhsi |
| Bus | Bus |
| I would like to rent ... | Ma kira'e cahanuhuncha |
| Motorbike | Moṭarasa'ikala |
| Car | Gaadi |
| Bike | Ba'ika |
| English | Nepali |
| --- | --- |
| Where is… ? / How to go to… ? | Kaha  ? / ...Kolagi kati paisa lagchha ? |
| Bank | Baink |
| Station | Rela sṭeśana |
| Downtown | Śahara |
| Hotel | Hotel |
| Hospital | Aspatāla |
| Is it near / far? | Yahabatake nire chha ? Yahabatake tadha chha ? |
| Straight ahead | Sidha |
| Left right | Baya / Daya |
| North South East West | Uttara / Daksina / Cha / Kaham cha |
| English | Nepali |
| --- | --- |
| one, two, three, four, five, six, seven, eight, nine and ten | Ek, dui, tin, char, panch, chha, sat, ath, nau, das |
| twenty, thirty, forty, fifty, sixty | Bis, tis, chalis, pachas, sathi |
| seventy, eighty, ninety | Sattari, asi, nabbe |
| hundred | Ek say |
Schedules / Dates and days
[
edit
|
edit source
]
| English | Nepali |
| --- | --- |
| What time is it ? | Koti bodié ? |
| When? | Jaba  ? |
| Yesterday | Hijo |
| Today (morning / noon / evening) | Aja (bihaana / diuso / saanjh) |
| Tomorrow | Bholi |
| Monday Tuesday Wednesday Thursday Friday Saturday Sunday | Sombar, mangal bar, budhbar, bihibar, sukrabar, sanibar, aitabar |
| I am here on vacation / traveling | Ma hum chhutti / yaatraa |
| I am here for work / for business | Ma hum kama |
| English | Nepali |
| --- | --- |
| I'm hungry, I'm thirsty | Malaaï boglagyo / Malaaï tirkha lagyo |
| Enjoy your meal | Āphnō khānākō majā |
| Health! | Svāsthya  ! |
| That was delicious ! | Mitho tcha |
| What do you recommend to me? | Tapā'īṁ kē siphārisa garchan ? |
| I am vegetarian | Ma sahkahari hun |
| Without spice! (I do not like spices) | Ma piro khandina |
| It's too hot ! | Garam  ! |
| I am allergic | Ma ēlarjī chu |
| Seafood | Samudrī |
| Peanut | Badāma |
| Gluten | Lasa |
| I would like… | Ma cāhanchu |
| Water | Pānī |
| Tea / coffee | Chiya / Kaphī |
| Beer / wine | Biyar / Raksī |
Health / Emergency / Security
[
edit
|
edit source
]
| English | Nepali |
| --- | --- |
| I need to see a doctor. | Ramro daktar kaha paincha |
| Call a doctor / ambulance | Daktar laibolaunuhos |
| Where is the hospital? | Yaha aspatal kaha chha ? |
| I do not feel very well | Malai sancho chhaina |
| I hurt here | Ma yaham cōṭa |
| Where are the toilets ? | Shaucha laya kaha chha |
| Help ! | Guhar  ! |
| Police | Prahari |
| Danger | Khatara |
| I'm lost | Ma haraye |
| English | Nepali |
| --- | --- |
| Have a good day ! | Rāmrō dina ! |
https://www.evaneos.fr/nepal/voyage/vocabulaire-de-survie/
http://www.gundrukpost.com/just-1-reason-to-prove-why-hindi-becoming-nepals-official-language-will-be-the-silliest-thing-ever/
Contributors
---
Create a new Lesson