Multiple-languages Vocabulary: «Must‐Know Words for Polyglots»
From Polyglot Club WIKI
---
Must-know words for polyglots.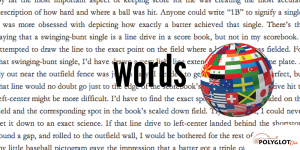 Mainly about linguistic terms. Also other important things.
In progress.
Remember: you don't have to memorise them all in a single time.
If you are interested in terms, see https://glossary.sil.org/term
To know a relatively clear categorization of linguistics, see https://en.wikipedia.org/wiki/Outline_of_linguistics#Branches_of_linguistics
Linguistics and its best-known branches.

Semiotics is not a part of linguistics, but it is closely related to linguistics.

Language and its similar words in definition.
There are many words in this section. If you know them all, you can understand what those words in International Phonetic Alphabet mean.

*sonorant also includes the vowel.

Some confusing similar words with "word".
An affix is a morpheme, which is just mentioned above.
parse tree

constituency-based parse tree
dependency-based parse tree

If you understand parse trees, you can draw and learn sentence structures quickly.
Two important concepts.
part of speech
PoS.

phrase
clause

argument clause
adjuctive clause
predicative clause

sentence

simple sentence
compound sentence
complex sentence
compound–complex sentence

declaritive sentence
interrogative sentence
exclamatory sentence
imperative sentence
instructive sentence

major sentence
minor sentence

Notice the differences between "phrase", "clause", "sentence".
punctuation
Punctuation. People often neglect it.
grammatical category

person

first person
second person
third person

gender

masculine
feminine
neuter

"Grammatical category", you may haven't heard about it, but you know it.

An "aspect" may be considered as "tense".

linguistic typology
Languages can be differentiated by its structure.
grammar
hyponym & hypernym
idiom
linguistic relativity
Rosetta Stone
It tells us the value to write parallel text.