Multiple-languages Culture: Best Guitarists
From Polyglot Club WIKI
Change language
---
🎸 The Best Acoustic Guitarists in the World in 2022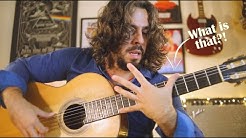 It is well known, music is a universal language! So here is a page that lists the best videos of the best acoustic guitarists in the world!

NB: This ranking is evolving all the time as I discover new guistarists.
What about you?
What is your ranking?
Please write a comment below 😎
Lucas Imbiriba

from Brazil

[

edit

|

edit source

]
The Trooper (Iron Maiden)
This video is not the one with the most views of Lucas but it is the one I prefer. There are so many difficulties and speed. Besides, I know the original Iron Maiden song well and I didn't think it was possible to do it on an acoustic guitar, whereas in the original there are several electric guitars!
GOAT Polyphia Flamenco Guitar
Original song:
25 or 6 to 4 - Chicago - Solo Acoustic Guitar - Arranged by Kent Nishimura
Marcin - "Innuendo" by Queen & "Asturias" on One Guitar (Live Session)
Grisha Goryachev from Russia
[
edit
|
edit source
]
Original song played by Paco de Lucia from Spain
Luca Stricagnoli

from Italy

[

edit

|

edit source

]
"The Prodigy"
Alexandr Misko from Russia
[
edit
|
edit source
]
George Michael - Careless Whisper
Mike Dawes from the United States
[
edit
|
edit source
]
Josephine Alexandra from Indonesia
[
edit
|
edit source
]
Cover of (Charlie Puth) Attention
Contributors
---
Create a new Lesson