Modern-greek-1453 Vocabulary: Colors
From Polyglot Club WIKI
---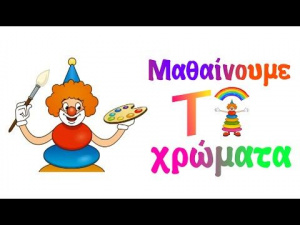 Colors
■ Κόκκινο: red
■ Κίτρινο :yellow
■ Μπλέ:blue
■ Πράσινο:green
■ Ροζ:pink
■ Μωβ:purple
■ Καφέ:brown
■ Χρυσό:golden
■ Ασημί:silver
■ Μαύρο:black
■ Λευκό:white
■ Γκρί:grey
■ Πορτοκαλί:orange
Παρέα με τα χρώματα
Τι είναι τα χρώματα και γιατί τα βλέπουμε;
Οι γεννηθέντες με φυσιολογική όραση ,μπορούμε να συμφωνήσουμε πως η θάλασσα είναι μπλε και το γρασίδι πράσινο.
Φαντάζεστε πόσο δύσκολο θα ήταν να οραματιστούμε έναν άχρωμο κόσμο από τη στιγμή που γεννιόμαστε ;
Τα χρώματα είναι πλέον αναπόσπαστο κομμάτι της καθημερινότητάς μας ,της ψυχοσύνθεσής μας.
Εκτός βεβαίως της φαντασίας μας,εξάπτουν εξ' ίσου και την περιέργειά μας .Τονίζουν δε και διακρίνουν εκφράζοντας τον συναισθηματικό μας κόσμο.
Χρώμα διαθέτουν τόσο η φύση, όσο και τα αντικείμενα.Αρχίζουμε από τα βασικά,δίνοντας το όνομα που τους αντιστοιχεί στην ελληνική γλώσσα.
What are colors and why do we see them?
Those born with normal vision, we can agree that the sea is blue and the grass is green.
Can you imagine how difficult it would be to envision a colorless world from the moment we are born?
Colors are now an integral part of our daily lives, of our psychosynthesis.
Of course, apart from our imagination, they also arouse our curiosity. They emphasize and distinguish by expressing our emotional world.
Both nature and objects have color. We start with the basics, giving the name that corresponds to them in the Greek language.
Expressions
Ελληνικά - Grec
Γαλλικά - Français
English
Λευκό (άσπρο) όπως το χιόνι
Blanc comme neige (ou expression : blanc comme neige)
White as snow.
(lefkô ôpos to chiôni)
Χρυσοκίτρινο σαν τον ήλιο
Doré comme le soleil.
Golden like the sun.
(chryssikîtrinos san ton îlio)
Πορτοκαλί όπως το πορτοκάλι
Orange (couleur) comme l'orange (fruit)
Orange (color) like orange (fruit)
(Portokalî ôpos to portokàli)
Κίτρινο σαν το λεμόνι
Jaune comme le citron
Yellow like lemon
(Kîtrino san to lemôni)
(couleur jaune citron)
(lemon yellow color)
Κόκκινο όπως το αίμα
Rouge comme le sang
Red as blood
(Kôkino ôpos to éma)
(couleur rouge sang)
(blood red color)
Μπλε όπως ο ωκεανός
Bleu comme l'océan
Blue like the ocean
(Blè ôpos o okeanôs)
Πράσινο όπως το γρασίδι
Vert comme la pelouse
Green like the lawn
(Pràssino ôpos to grassîdi)
Μαύρο σαν την πίσσα
Noir comme le bitume
As black as bitumen
(màvro san tin pîssa)
Καστανό όπως το κάστανο
Βrune comme le marron (la châtaigne)
Βrune like a chestnut
(Kastanô ôpos to kàstano)
Γκρι όπως ο ποντικός
Gris comme la souris
Gray like the mouse
(gri ôpos o pontikôs)
Καφέ,σαν τον καφέ που πίνουμε
Couleur café, comme la boisson
Coffee color
(kafé san san ton kafé pou pînoume)
Σμαραγδένια λίμνη
Un lac émeraude
An emerald lake
(smaragdénia lîmni)
Λιλά όπως το λουλούδι Πασχαλιά
Couleur lilas, comme la fleur (de Pâques)
Lilac color
(Lilà ôpos to louloùdi paschali)
Πολύχρωμο όπως το ουράνια τόξο
Multicolore, comme l'arc-en-ciel
Multicolored
(Polîchromo ôpos to ourànio tôxo)
Μπορντώ σαν το ρόδι
Bordeau comme la grenade
Bordeaux like pomegranate
(bordô san to rôdi)
 Άχρωμο (διαυγές) σαν το νερό
Incolore (clair) comme l'eau
Colorless (clear) like water
(àchromo (diavgés) san to nerô)
Βερικοκί σαν το φρούτο βερίκοκο
Couleur abricot, comme l'abricot (le fruit)
Apricot color
(berikokî san to froùto berîkoko)
Ροζ σαν καραμέλα
Rose comme le bonbon
Pink like candy
(roz san karamèla)
(couleur rose bonbon)
Μώβ όπως η λεβάντα
Mauve (ou violet) comme la lavande
Mauve (or purple) like lavender
(môv ôpos i levànda)
Χρωματική παλέτα
Palette de couleur
Color palette
(chromatikî palèta)
Η απόχρωση
La nuance
The shade
(i apôchrossi)
Χρώματα ζωγραφικής
Couleurs de peinture
Paint colors
(chrômata zografikîs)