Iranian-persian Vocabulary: «Days of the Week»
From Polyglot Club WIKI
---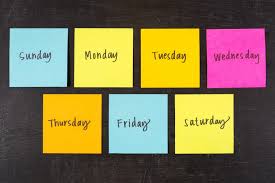 Hey guy's. How are you today? Did you have a good Monday? I hope you enjoy your every day.
Today was Monday and it is a good starter for weeks. But in Iran people go to work every Sundays because the weekend is Friday and Saturday is the first day. We called that "shanbe" (شنبه ) and next be "yek shanbe" (یک شنبه ).
We called Monday "doshanbe" (دو شنبه ) and Tuesday "se shanbe" (سه شنبه ).
In Iran you don't have Wednesday, a Persian language says " chahar shanbe" (چهار شنبه ) and next day is "panj shanbe" (پنج شنبه ).
Now you have weekend and can rest or going out or other activities that you like. It is a good "jom,e" ( جمعه ).
In fact every names have "shanbe" expect weekend.
If you like it I can say you more, my native language is very old and I think it most likely language.
| Persian | Pronunciation | English |
| --- | --- | --- |
| شنبه | šanbe | Saturday |
| یک شنبه | yekšanbe | Sunday |
| دوشنبه | došanbe | Monday |
| سه شنبه | sešanbe | Tuesday |
| چهارشنبه | cahâršanbe | Wednesday |
| پنج شنبه | panjšanbe | Thursday |
| جمعه | jom'e | Friday |