Language/German/Vocabulary/Weather
Jump to navigation
Jump to search
---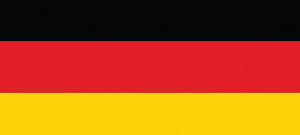 Hello everybody,
In today's lesson you will learn some useful vocabulary about ¨WEATHER¨ in German
Feel free to edit this page by adding new words and expressions !
Happy learning ! :)
Once you've mastered this lesson, take a look at these related pages: Drinks, Days of the Week, DEUTSCH IM DETAIL 1 & Food and Meals.
Some words for Weather in German

[

edit

|

edit source

]
Nos
ENGLISH
PRONUNCIATION

ENGLISH

GERMAN
PRONUNCIATION

BRAZILIAN

PORTUGUESE

BRAZILIAN

PORTUGUESE

01
The sun
dee zoh neh
Die Sonne
dii zoo ne
O sol
02
The moon
dehr mohnt
Der Mond
dér mónt
A lua
03
The star
dehr shih tehrn
Der Stern
dér chtérn
A estrela
04
The water
dahs vah suhr
Das Wasser
dás vá sâr
A água
05
The rain
dehr reh gehn
Der Regen
dér re guen
A chuva
06
The river
dehr floos
Der Fluss
dér fluus
O rio
07
The lake
dehr zeh
Der See
dér zee
O lago
08
The sea
dahs mehr
Das Meer
dás méer
O mar
09
The salt
dahs zahl tsih
Das Salz
dás zaLts
O sal
10
The stone
dehr shih tah ihn
Der Stein
dér chtáin
A pedra
11
The sand
dehr zahnt
Der Sand
dér Zánt
A areia
12
The dust
dehr shih tah oub
Der Staub
dér chtáub
A poeira
13
The Earth
dee ehr deh
Die Erde
dii ér de
A Terra
14
The cloud
dee vohl keh
Die Wolke
dii voL ke
A nuvem
15
The fog
dehr neh behl
Der Nebel
dér né beL
O nevoeiro
16
The sky
dehr hih mehl
Der Himmel
dér Hí meL
O céu
17
The wind
dehr veent
Der Wind
dér vínt
O vento
18
The snow
dehr shih neh
Der Schnee
dér chnée
A neve
19
The ice
dahs ah ihs
Das Eis
dás áis
O gelo
20
The smoke
dehr rah oo kh
Der Rauch
dér ráuCH
A fumaça
21
The fire
dahs foy uhr
Das Feuer
dás fói âr
O fogo
22
The ash
dee ah sheh
Die Asche
dii a che
As cinzas
23
To burn
breh nehn
brennen
bré nen
Queimar
24
The road
dee shih trah seh
Die Straße
dii chtráa se
A estrada
25
The mountain
dehr behrk
Der Berg
dér bérk
A montanha
26
The street
dee shih trah seh
Die Straße
dii chtráa se
A rua
27
The rainbow
dehr reh gehn boh gehn
Der Regenbogen
dér re guen bo guen
O arco-íris
Contributors
---
Create a new Lesson