Language/German/Vocabulary/Asking-Directions
Jump to navigation
Jump to search
---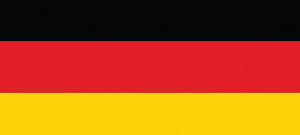 Hello everybody,
In today's lesson you will learn some useful vocabulary about ¨DIRECTIONS¨ in German
Feel free to edit this page by adding new words and expressions !
Happy learning ! :)
Take a moment to explore these relevant pages as you conclude this lesson: Drinks, Days of the Week, How to say Good Bye? & Idiomatic Expressions.
Some words for Directions in German

[

edit

|

edit source

]
Nos
ENGLISH
PRONUNCIATION

ENGLISH

GERMAN
PRONUNCIATION

BRAZILIAN

PORTUGUESE

BRAZILIAN

PORTUGUESE

01
How do

I get to ...? 

vee koh meh

ikh naakh ...

Wie komme

ich nach ...?

vii ko me

iCH naCH ...

Como

chego a ... ?

02
... downtown ?
ihn dehr ih nehn shtaat
... in der Innenstadt?
in dér i nen chtaat
Centro da cidade ?
03
left 
leenks
links
línks
esquerda
04
right 
rekhts
rechts
reCHts
direita
05
straight ahead 
geh rah deh ah oos
geradeaus
gue ra de áus
Siga em frente !
06
towards the ...
ihn rihkh toonk dehr
in Richtung der ...
in riCH tunk der
através de ...
07
through the ...
dourkh dehn
durch den ...
durCH den
passe pela ...
08
before the ...
fohr dehm
vor dem ...
for dem
antes de ...
09
look for

the ...

zou khen zee

ah oof dee ..

Suchen-Sie

auf die ...

zuChen-zii

áuf dii

procure pelo ...

procure pela ...

10
north 
nohr dehn
Norden
nór den
norte
11
south 
sewd
Süd
syyd
sul
12
east 
ohs tehn
Osten
os tén
oeste
13
west 
wehs tehn
Westen
ves ten
leste
14
uphill 
behr gah oof
bergauf
ber gáuf
morro acima
15
downhill 
behr gahp
bergab
ber gáp
morro abaixo
Contributors
---
Create a new Lesson