Language/German/Vocabulary/Adverbs-in-German
Jump to navigation
Jump to search
---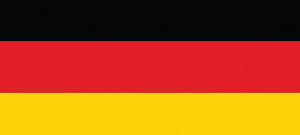 Hello everybody,
In today's lesson you will learn how to use ¨ADVERBS¨ in the German language.
Feel free to edit this page by adding new words and expressions !
Happy learning ! :)
Don't hesitate to look into these other pages after completing this lesson: Drinks, Days of the Week, Talking About Your Friends & Months of the Year.
Nos
ENGLISH
PRONUNCIATION

ENGLISH

GERMAN
PRONUNCIATION

BRAZILIAN

PORTUGUESE

BRAZILIAN

PORTUGUESE

01
here
hee uhr
hier
Hii âr
aqui
02
there
dohrt
dort
dórt
lá
03
upwards
nahkh oh behn
nach oben
naCH ô ben
acima
04
under
oon tuhr
unter
ún târ
abaixo
05
behind
hihn tuht
hinter
Hín târ
atrás
06
before
four
vor
fóor
antes
07
after
nahkh dehm
nach dem
naCH dem
depois
08
then
dahnn
dann
dann
então
09
against
geh gehn
gegen
gue guen
contra
10
now
yeht stih
jetzt
iét sti
agora
11
this
dees /

dees

dies /

dies

diis /

diis

esse /

essa

12
that
daas /

daas

das /

das

das /

das

aquele /

aquela

13
who
vehr
wer
véâr
quem
14
what ?
vahs
was ?
vás
o que ?
15
where
voh
wo
vô
onde
16
when
vahn
wann
váan
quando
17
how
vee
wie
vii
como ...
18
all (masc) /

all (fem)

ah leh /

ah leh

alle /

alle

ále /

ále

todo / toda
19
many
fee leh
viele
fii le
muitos /

muitas

20
some
eht vahs
etwas
ét vas
alguns
21
few
veh nih geh
wenige
vé ni gue
poucos
22
other (masc) /

oher (fem)

ahn deh reh /

ahn deh reh

andere

andere

an dé re /

an dé re

outro /

outra

23
still
noh kh
noch
nó CH
ainda
24
not yet
noh kh nih kht
noch nicht
nó CH ni CHt
ainda não
Contributors
---
Create a new Lesson