French Vocabulary: «Jobs»
From Polyglot Club WIKI
---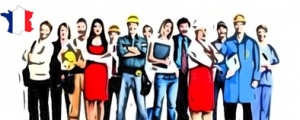 Here is a list of word and useful phrases for different types of jobs.

To practice:
try to guess the meaning of every French word in the menu,
check the meaning (click the menu),
write a sentence using that word and pronounce it outloud,
watch the video to practice pronuncition and learn new words.
Feel free to edit this article to improve it. :)
actor
C'est le meilleur acteur que j'ai jamais vu = This is the best actor I've ever seen
police officer
demandez à l'agent de police = ask the police officer
farmer
il y a de moins en moins d'agriculteurs en France = there are fewer and fewer farmers in Franch
architect
Je vous conseille de contacter un bon architecte = I suggest you to contact a good architect
butcher
c'est le meilleur boucher du quartier = this is the best butcher in the neighborhood
cashier
le caissier travaille dans un supermarché = the cashier works in a supermarket
singer
devenir chanteur n'est pas facile = becoming a singer is not easy
taxi driver
c'est la grève des chauffeurs de taxi à Paris = taxi drivers are on strike in Paris
hairdresser
j'ai besoin de voir un coiffeur = I need to see a hairdresser
actor
mon rêve c'est d'être comédien = My dream is to become an actor
dentist
j'ai peur d'aller chez le dentiste = I'm afraid to go to the dentist
director
merci de contacter notre directeur SVP = thank you, please contact our Director
writer
c'est un écrivain célèbre = he is a famous writer
electrician
comment trouver un bon életricien ? = how to find a good életricien?
student
il est toujours étudiant = it is still a student
factor
attendons le facteur = Let's wait for the factor
nurse
infirmier c'est un métier passionnant mais difficile = Nursing is an exciting but difficult job
computer scientist
il faut demander à une informaticien = we must ask a computer scientist
engineer
Combien d'années faut-il pour devenir ingénieur ? = How many years does it takes to become an engineer?
interpreter
je recherche un interprète pour cette mission = I am looking for an interpreter for this mission
journalist
les journalistes attendent le président = journalists are waiting for the president
model
sa petite amie est mannequin = his girlfriend is model
mechanic
merci de vérifier la facture de ce mécanicien = thank you to check the bill for this mechanic
doctor
son docteur l'a rassuré = his doctor reassured him
musician
nous avons besoin de musicien pour ce spectacle = we need musicians for this show
painter
l'œuvre de ce peintre est magnifique = the work of this painter is beautiful
photograph
connaissez vous ce photographe ? = do you know this photographer?
plumber
Plombier est un métier qui rapporte = Plumber is a job that pays
politician
ce politicien est honnète = This politician is honest
firefighter
les pompiers sont arrivés sur le lieu de l'incendie = firefighters arrived at the scene of the fire
teacher
tu connais mon professeur d'anglais ? = do you know my English teacher?
receptionist
demandez au réceptionniste SVP = Please ask the receptionist
sculptor
Ce sculpteur est incroyable ! = This sculptor is amazing!
secretary
Veuillez contacter ma secrétaire = Please contact my secretary
waiter
Ce serveur est distrait = This server is distracted
salesman
Ce vendeur est agressif = This seller is aggressive
actress
qui est ta meilleur actrice ? = who is your best actress?
nurse
Comment devenir infirmière ? = How to become a nurse?
a mason
Je cherche un bon maçon, tu en connais un ? = I'm looking for a good mason, do you know someone?

Please help us improve this page : edit or post a comment !