French Vocabulary: «Asking Directions»
From Polyglot Club WIKI
---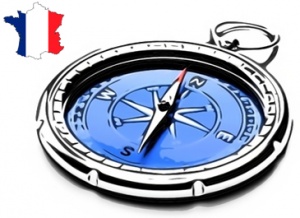 This article will give you the essential vocabulary to travel in a French-speaking country.
Asking for directions in French can be easy but the hardest will be to understand directions people will give you.
Before asking for directions, start with "excusez-moi" or people might think you are rude and will not be likely to help you.
Then you can ask one of the following questions:
"Est-ce que vous savez où est..."
"ou est..."
"ou se trouve..."
"comment aller à/au... "
followed by the name of the place you're looking for.

Here is a list of vocabulary useful to understand the directions you will be given :
south
Comment aller vers le sud ? = How to go south?
east
Le parc se trouve à l'est de la ville = The park is located east of the city
north
C'est au nord de la ville = It's at the north of the city
west
C'est à l'ouest du parc = It is west of the park
next to
L'hôtel est à côté de la gare. = The hotel is next to the train station.
on the right
Le cinéma est à votre droite. = The movie theater is on your right.
on the left
Tournez à droite et c'est la première rue à votre gauche. = Turn right, and it's the first street on your left.
at the corner of
La boulangerie se trouve au coin de la rue = The bakery is at the corner of the street
center
C'est dans le centre-ville = It's in the city center
the next street
Le bâtiment se trouve dans la prochaine rue = The building is in the next street
over there
La mairie est là-bas = The town hall is there
downtown
Le centre-ville est très grand = The city center is very large
street
C'est la prochaine rue à droite = It's the next street on the right
turn right
Tournez à droite après le magasin = Turn right after the shop
turn left
Tournez à gauche après le grand arbre = Turn left after the big tree
straight
Continuez tout droit jusqu'au bout de la rue = Continue straight until the end of the street
map
Auriez vous une carte s'il vous plaît ? = Would you have a map please?
Far from
Est-ce que l'école est loin d'ici? = Is the school far from here?
in the center of
L'école est au centre de la ville. Allez tout droit et vous le trouverez. = The school is in the center of town. Go straight and you'll find it.
Contributors
Last Lessons
Create a new Lesson