English Vocabulary: Frequently Misspelt Words
From Polyglot Club WIKI
---
Frequently Misspelt Words in English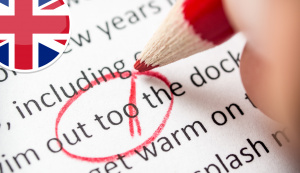 Hi English learners!

A common error among language learners and even many native speakers of any language is the misspelling of certain words. English is no exception. In fact, it is subject to many more such errors than most other languages.

Why? The first and most important reason is that the spelling of English words was first formed many hundreds of years ago. At that time, the spelling corresponded very well to how the words and syllables (parts of the word) were pronounced and elocuted (how they are said together when they are joined). However, pronunciation changed considerably but the spelling of words less so. What was left was a lot of words spelt differently from how they were presently being used. The different dialects of English spoken in the British Isles complicated this further.

Secondly, English went from being a fringe language spoken by part of the population in the British Isles to a language spoken in many areas of the world. During this process, how English was spoken diverged in many reasons. One was British colonisation over the last 500 or so years. This divergence was subsequently driven by which dialects of English were spoken by original and later colonialists, the influence of languages spoken in colonised regions and also independent evolution over time due to physical separation from Britain.

Local languages had a significant influence on the evolution of English in regions such as India and much of Africa. English as spoken in North America, Australia and New Zealand was heavily influenced by the dialects spoken by original settlers along with physical and temporal separation from Britain. Other factors played their roles, such as the influence of slaves from Western Africa on the evolution of English as spoken in the South of the United States.

Also adding to the confusion, many words are "officially" spelt differently over different varieties of English. British English and American English differ significantly in how they spell words. Furthermore, other dialects of English such as Australian English and Canadian English deviate in the manner in which words are spelt.

Nevertheless, there are many reasons for the misspelling of words. In this lesson, some frequently misspelt English words are corrected with a brief note on the probable causes for the errors where necessary. Words spelt differently in different English dialects, e.g. "humour" (British English) or "humor" (American English) are not treated as misspellings. "mispelling" is a misspelling but "misspelt" (British English) or "misspelled" (American English) are not :)
| Correct Spelling | Wrong Spelling | Probable Cause of Misspelling |
| --- | --- | --- |
| Acceptable | Acceptible | Mispronunciation |
| Accommodate | Accomodate | Incorrect elocution of syllables in the word. |
| A lot | Alot | "A lot" tends to elocute like a single word in normal speech. |
| Address | Adress | Pronunciation. "d" sound dropped when elocuting syllables. |
| Aggression | Agression | Pronunciation. "g" sound dropped when elocuting syllables. |
| Almost | Allmost | Confusion with the word "all". |
| Argument | Arguement | Mistake because of the root word 'argue'. |
| Atheist | Athiest | Exception to the "'i' before 'e' except after 'c'" spelling rule. |
| Beetle | Beatle | Confusion with spelling of real name, famous British band. |
| Beginning | Begining | Incorrect elocution of syllables in the word. |
| Believe | Belive/Beleive | Mispronunciation |
| Blood | Blod | Spelling like the word is pronounced. |
| Bureaucracy | Bureacracy | "eau" spelling rule for words of French origin. |
| Category | Catagory | Mispronunciation |
| Clarify | Clearify | Mistake because of the root word 'clear'. |
| Colossal | Collosal | Incorrect elocution of syllables "Co" and "lossal". |
| Coming | Comming | Incorrect elocution of syllables in the word. |
| Continuously | Continiously | Confusion with the rule for words ending in 'ious'  |
| Controversy | Contraversy | Mispronunciation |
| Debt | Det | Silent "b". Spelling like the word is pronounced. |
| Definitely | Definitly | Silent "e" after "t". |
| Dilemma | Dilema | Incorrect elocution of syllables in the word. |
| Doubt | Dout | Silent "b". Spelling like the word is pronounced. |
| Enmity | Enimity | Mispronunciation |
| Existence | Existance | Mispronunciation |
| Expatiate | Expantiate | Mispronunciation |
| Experience | Experiance | Mispronunciation |
| Foreign | Foriegn / Foreing | Various |
| Forty | Fourty | Mistake because of the root word 'four'. |
| Friend | Freind | Confusion between order of "i" and "e". |
| Going to | Gonna | Nonstandard colloquial mispronunciation. |
| Grammar | Grammer | Mispronunciation |
| Great | Grate | Pronunciation |
| Grievous | Grievious | Mispronunciation |
| Guidance | Guidiance | Mistake because of the root word 'guide'. |
| Harass | Harrass / Harras | Elocution of syllables and elocution with following words. |
| Independent | Independant | Mispronunciation |
| Innoculate | Inoculate | Incorrect elocution of syllables in the word. |
| Interesting | Intresting | Mispronunciation or colloquial pronunciation. |
| Its | It's | Trying to follow general grammatical rule for possessive nouns. |
| Knee | Nee | Silent "k". |
| Knife | Nife | Silent "k". |
| Lamb | Lam | Silent "b" at the end of the word. |
| Library | Libary | Mispronunciation |
| Maintenance | Maintainance | Root word "maintain". |
| Military | Millitary | Mispronunciation |
| Millennium | Milennium/Millenium | Incorrect elocution of syllables in the word. |
| Millennium | Millenniun | Mispronunciation |
| Minuscule | Miniscule | Confusion with "mini" meaning "small" or "tiny". |
| Mischievous | Mischievious | Confusion with the rule for words ending in 'ious' |
| Misspell | Mispell | Pronunciation. "S" sound dropped from syllable "mis" when elocuted with "spell". |
| Occasion | Occassion | Confusion with the rule for words ending in 'ssion' |
| Occurred | Occured | Various |
| Parallel | Parrallel | Incorrect elocution of syllables in the word. |
| Poem | Peom | Various |
| Pronunciation | Pronounciation | Root word "pronounce". |
| Quarantine | Quarentine | Mispronunciation |
| Questionnaire | Questionaire | Elocution of syllables. "n" at the end of "question" dropped when elocuted with "naire". |
| Really | Realy | Incorrect/colloquial elocution of syllables in the word. |
| Receipt | Receit | Pronunciation. Dropping the silent "p". |
| Repetition | Repatition/Repitition | Mispronunciation |
| Said | Sayed | Mispronunciation |
| Schedule | Shedule | Pronunciation. In British English, "sch" in this word is pronounced "sh". |
| Schedule | Skedule | Pronunciation. In American English, "sch" in this word is pronounced "sk". |
| Separate | Separete/Seperate | Mispronunciation |
| Seize | Sieze | Exception to the "'i' before 'e' except after 'c'" spelling rule. |
| Speech | Speach | Various |
| Sure | Shure | Spelling like the word is pronounced. |
| They're | Their/There | "They're" sounds exactly like "their" or "there". |
| Truly | Truely | Root word "true". |
| Unnecessary | Uneccessary | Incorrect elocution of syllables. |
| Until | Untill | Elocution with following words. Incorrectly repeating the "l" sound. |
| Usage | Useage | Root word "use". |
| Vicious | Visious | Pronunciation. "c", "s" make the same phonetic sound. |
| Want to | Wanna | Nonstandard colloquial mispronunciation. |
| Weather | Wether | Spelling like the word is pronounced. |
| Which | Wich | Spelling like the word is pronounced. |
| You're | Your | Pronunciation. "You're" sounds exactly like "your". |