Danish Grammar: Pronouns
From Polyglot Club WIKI
---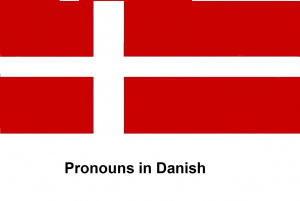 Hello everybody 😀

➡ In today's lesson we will study the Personal Pronouns. 😎

Feel free to edit this wiki page if you think it can be improved.

Happy learning!
Here are the different pronouns in Danish:
personal pronouns (jeg, du, han, hun, den, det, de, vi, I, de)
possessive pronouns (min, mit, mine, din, dit, dine, hans, hendes, deres, dens, dets, vores, jeres)
demonstrative pronouns (denne, dette, den, det, disse, de der)
relative pronouns (som, der)
undefined pronouns (nogle, nogen, noget, ingen, ikke nogen, intet, enhver, alle , alt, man)
reflective pronouns (mig, dig, sig, os, jer)
interrogative pronouns (hvem, hvis, hvad, hvilken, hvilketn hvilke, hvor, hvornår, hvordan, hvor længe, hvor lang tid).
Personlige pronomen - Personal pronouns
[
edit
|
edit source
]
| Dansk | English |
| --- | --- |
| jeg | I |
| du | you |
| | |
| den, det | it |
| vi | we |
| I | you |
| de | they |
to love + Subjective Pronoun
[
edit
|
edit source
]
| Dansk | English |
| --- | --- |
| jeg elsker | I love |
| du elsker | you love |
| | |
| vi elsker | we love |
| I elsker | you love |
| de elsker | they love |
To know + Objective Pronoun
[
edit
|
edit source
]
| Dansk | English |
| --- | --- |
| DU KENDER MIG | YOU KNOW ME |
| JEG KENDER DIG | I KNOW YOU |
| JEG KENDER HAM | I KNOW HIM |
| JEG KENDER HENDE | I KNOW HER |
| DE KENDER OS | THEY KNOW US |
| DE KENDER JER | THEY KNOW YOU (PLUR) |
| JEG KENDER DEM | I KNOW THEM (MASC) |
| JEG KENDER DEM | I KNOW THEM (FEM) |
| Dansk | English |
| --- | --- |
| MED MIG | WITH ME |
| MED DIG | WITH YOU |
| MED HAM | WITH HIM |
| MED HENDE | WITH HER |
| MED OS | WITH US |
| MED JER | WITH YOU (PLUR) |
| MED DEM | WITH THEM (MASC) |
| MED DEM | WITH THEM (FEM) |