Czech Vocabulary: «Greetings»
From Polyglot Club WIKI
---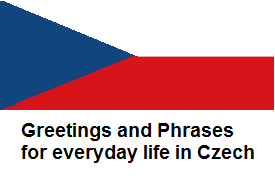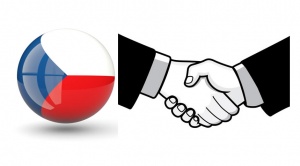 As you might know, Czech people (however rude they might appear to you when you're a tourist) actually have some courtesy among them :)
That's why we also distinguish between friends and people we respect (like employers, older family members, and greetings based on if you're older/younger than the person).
Don't worry, it might sound hard but it is actually pretty easy! :) I'd say it's quite similar to English.
Everything in BOLD is mostly used in spoken Czech, so please do not write it in any formal letter or so.
Ahoj! Čau! Čus! Hoj! Nazdar! - you say this to your friends or kids that are younger than you, also you say -ahoj- and -čau- to your family members. The rest is used mostly among friends.
Ahoj!
Dobrý den! - to be honest, this is the greeting you always use when you meet someone you have to respect (teacher, someone new, employer...) you use it until at about 6pm and then you change it to good evening which is translated a bit later
Dobré ráno!
Dobré poledne! (not used much in normal conversations but you can encounter it sometimes, mostly in older Czech language)
Dobré odpoledne!
Dobrý večer
Wondering how to say goodbye? With your family/friends/young kids you can use ahoj, čau, čus, hoj as explained above
Saying goodbye in respectful way
Nashledanou (it basically means -so we can see each other again-)
| English | Czech |
| --- | --- |
| Welcome | VÍTEJTE ! |
| How are you ? | JAK  SE  MÁTE ? |
| What`s your name? | JAK SE JMENUJETE ? |
| My name is … | JMENUJI  SE ... |
| Sure ! | URČITĚ ! |
| Just a minute  ! | MOMENT, PROSÍM ! |
| I am ready | JSEM  PŘIPRAVEN |
| Let`s go ! | POJD´ME  NA TO |
| Good luck ! | HODNĚ ŠTĚSTI |
| How old are you ? | KOLIK JE VÁM LET ? |
| Somebody speaks Czech ? | NĚKDO MLUVÍ ČESKY ? |
| Go straight ! | JDĚTE ROVNĚ |
| To the right ! | ZABOČTE / ZAHNĚTE DOPRAVA  |
| To the left ! | ZABOČTE / ZAHNĚTE DOLEVA  |
| Thank you ! | DĚKUJI |
| You`re welcome ! | NENÍ  ZAČ / NENÍ ZA CO |
| Please  ! | PROSÍM  |
| Be careful ! | POZOR ! |
| How much is it ? | KOLIK  TO  STOJÍ ? |
| Good morning | DOBRÉ  RÁNO |
| Good afternoon | DOBRÉ  ODPOLEDNE |
| Good evening | DOBRÝ VEČER |
| Good night | DOBROU  NOC  |
| Nice to meet you | TĚŠÍ  MĚ  |
| Do you live here? | BYDLÍTE  ZDE  ?  |
| I`m here on vacation | JSEM TU NA DOVOLENÉ  |
| I`m here to study | JSEM TU KVŮLI STUDIU |
| See you soon ! | UVIDÍME SE POZDĚJI  |
| See you Tomorrow | UVIDÍME ZÍTRA  |
| Just a second ! | CHVILKU, PROSÍM  |
| Do you work ? | PRACUJETE ?  |
| No smoking ! | KOUŘENÍ ZAKÁZÁNO  |
| Good bye ! | NA SHLEDANOU !  |
| How can you say … in Czech ? | JAK SE ŘEKNE …ČESKY ?  |
| Today is hot ! | DNES JE HORKO  |
| I speak a little | JÁ MLUVÍM TROCHU  |
| Speak slower ! | MLUVTE POMALEJI  |
| Good appetite | DOBROU CHUT´  |
| Where are u from ? | ODKUD JSTE ?  |
| What time is it ? | KOLIK JE  HODIN  ?  |
| I am sorry ! | OMLOUVÁM SE  |
| Do you speak Czech? | MLUVÍTE   ČESKY ?  |
| Have a good travel ! | ŠŤASTNOU CESTU / HEZKÝ VÝLET  |
| Bye  ! | SBOHEM  |
| Bye  ! (Answer) | SBOHEM  |