Language/Croatian
Jump to navigation
Jump to search
---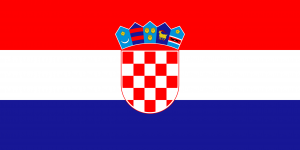 Hi Croatian Learners! 😃

Welcome to the Croatian learning page!
You will find below many free resources to learn and practice this language.

Enjoy your learning journey with Polyglot Club! 😊
Language code (ISO 639-3): hrv
Autonyms (how to write "Croatian" in Croatian): Hrvatski jezik / Hrvatski
Other names for "Croatian": Hrvatski, Serbo-Croatian
The Croatian language is spoken in: Croatia
Croatian is the standardized variety of the Serbo-Croatian languageused by Croats, principally in Croatia, Bosnia and Herzegovina, the Serbian province of Vojvodina, and other neighboring countries. It is the official and literary standard of Croatia and one of the official languages of the European Union. Croatian is also one of the official languages of Bosnia and Herzegovina and a recognized minority language in Serbia and neighboring countries.
https://en.wikipedia.org/wiki/Croatian_language
• Hrvatski jezični portal, Croatian language portal: dictionary of the Croatian language with meanings, etymology
• Lingea: Croatian-English dictionary & multilingual
• Eudict: Croatian-English dictionary & French, Italian, Spanish, Dutch
• Crodict: Croatian-English Dictionary & Croatian-German
• Iate: multilingual terminological dictionary (European Union)
• Loecsen: Croatian-English common phrases (+ audio)
• basic phrases Croatian-English (1994)
• Serbo-Croatian, a guide to the spoken language, published by the U.S. War Departement (1943)
• Dictionary of common Turkish words (used in Balkan) Turkish-English-Croatian dictionary (& Bulgarian-Bosnian-Macedonian)
• Hrvatska Enciklopedija: Croatian encyclopedia
• Struna: database of Croatian special field terminology
• Hrvatski jezični korpus: Croatian language corpus
• Veliki hrvatsko-engleski rječnik: Croatian-English Dictionary, by Željko Bujas (2011)
• Rječnik hrvatskoga jezika: dictionary of the Croatian language, by Franjo Iveković & Ivan Broz (1901) A-O & P-Ž
• Englesko-hrvatski rječnik: English-Croatian dictionary, by Šandor Lochmer (1906)
• Najveći hrvatsko-engleski riječnik: Standart Croatian-English & English-Croatian dictionary, by Francis Bogadek (1882)
• Dizionario italiano-illirico: Italian-Croatian dictionary, by Giovanni Jurasich (1863)
• Vocabulario italiano-illirico-latino: Italian-Croatian-Latin dictionary, by Joakim Stulli (1810) A-I & L-Z
• Rjecsoslòxje slovinsko-italiansko-latinsko: Croatian-Italian-Latin dictionary, by Joakim Stulli (1806) A-O & P-Z
• Lexicon latino-italico-illyricum: Latin-Italian-Croatian dictionary, by Joakim Stulli (1801) A-I & L-Z
• Dizionario italiano-latino-illirico: Italian-Latin-Croatian dictionary, by Ardelio della Bella (1785)
• Gazophylacium: Latin-Croatian dictionary & Croatian-Latin, by Ivan Belosteneć (1740)
• Portal hrvatske rječničke baštine: old Croatian dictionaries, online search
• Dictionar, ili Réchi Szlovenszke: Croatian-Latin dictionary (Kajkavian dialect) by Juraj Habdelić (1670)
• Croatian-Italian dictionary, manuscript, by Bartol Kašić (1599)
• Dictionarium quinque nobilissimarum Europæ linguarum Latinæ, Italicæ, Germanicæ, Dalmaticæ et Ungaricæ: Latin-Italian-German-Croatian-Hungarian dictionary, by Faustus Verantius (Faust Vrančić) (1595)
• On Turkish loanwords in Croatian language by Lidija Ban & Darko Matovac (2012)
• Plants and geographical names in Croatia by Hrvoje Čargonja, Branko Đaković, Antun Alegro (2008)
https://www.lexilogos.com/english/croatian_dictionary.htm
Croatian Online Virtual Keyboard
[
edit
|
edit source
]
Contributors
---
Create a new Lesson