Language/Breton/Culture/Flag
Jump to navigation
Jump to search
---
DRAPEAU de BRETAGNE / FLAG of BRITTANY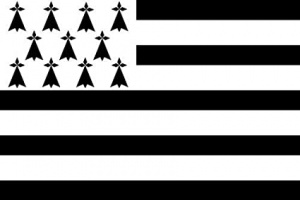 Demat, Breton Learners! 😃
➡ In today's lesson you will learn some interesting facts about the flag used for the Breton language spoken in Brittany (France).
The name of the Breton flag is: GWENN HA DU (White and black)
The first Breton flag KROAZ DU was born (probably) in the 12th century.
It was officially recognized in the 15th century before the 1923/1925 creation of the current flag.
It was created by Morvan MARECHAL who was inspired by the flag of the United States of America.
It consists of 9 black and white horizontal bars and 11 ermine speckles on a white background.
Le nom du drapeau breton est : GWENN HA DU (Blanc et noir)
Le premier drapeau breton KROAZ DU vu le jour (sans doute) au 12ème siècle.
Il fut reconnu officiellement au 15ème avant la création 1923/1925 du drapeau actuel.
Il a été crée par Morvan MARECHAL qui s'était inspiré du drapeau des Etats Unis d'Amérique.
Il se compose de 9 barres horizontales noires et blanches et de 11 mouchetures d'hermine sur fond blanc.
Contributors
---
Create a new Lesson