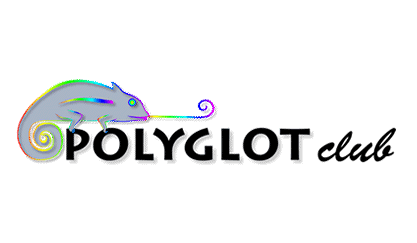 ---
Lingualia App Review 2022 Write a review about this language tool.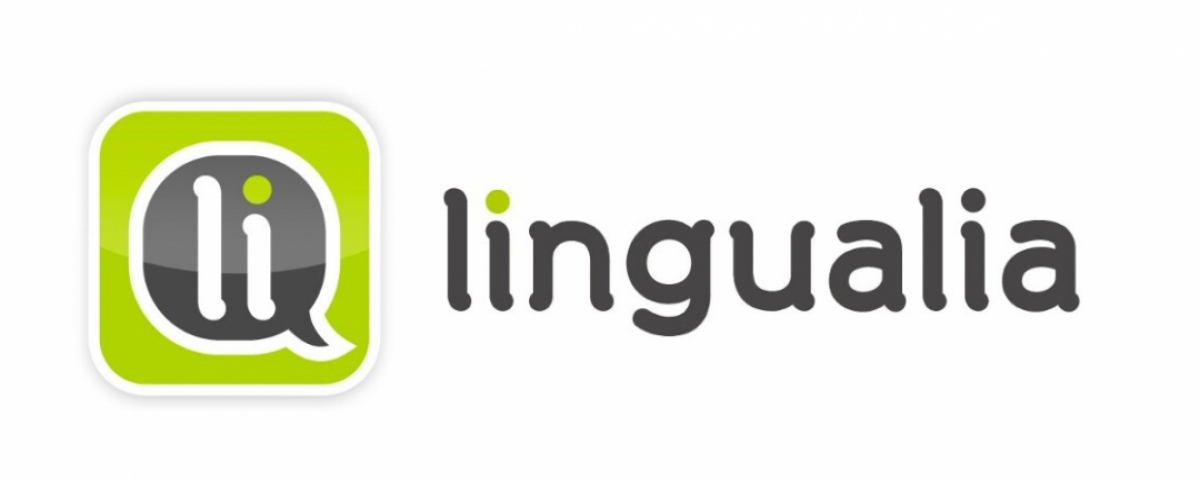 Category: Mobile App
LANGUAGES (2):
Minimum Price: 9.95 €
Summary
Lingualia is an online app allowing you to learn English or Spanish with the help of artificial intelligence.

For English, you will be able to reach the First Cambridge Certificate level.

It is a totally free tool that offers a paid version with more options.

However, it is not necessary to opt for the subscription for it to be effective. It works also as a kind of social network where people share their content and progress.

Today we bring you a detailed analysis so you can see if the app meets your needs and expectations.

We have taken the liberty of evaluating the app from its design to its features, to show you both its advantages and disadvantages.

---
I like...
✅ The app uses British English

It is true that American English tends to be more popular among apps, which makes it like the typical standard English that we should learn, but that should not always be the case. Lingualia focuses solely on British pronunciation, making it one of the few apps focused on it.

If British English catches your attention, repeating the audios over and over again will be of great help.


✅ Shows you the phonetic transcription of the words

Although learning the phonetic symbols of the English language is not essential to know how to pronounce correctly, without a doubt knowing them would not hurt at all. It shows you the phonetic transcription of words, giving you the opportunity to have a first approach to the phonetics of English, albeit indirectly.


✅ Grammatic description

An amazing feature is how short it is with its grammar explanations and examples, keeping everything concise and without going off on tangents. The grammar is distributed to you in an orderly and friendly way, making it easy to assimilate everything without overwhelming you.

It introduces you to the grammar topic with a couple of concepts and examples to give you an idea of ​​how it is used and structured.

---
I don't like...
❌ The Syllabus is not clear

One point that struck me is how disorganized the topics you want to learn can be. Each lesson is surprising as you won't know what the lesson is about unless you select.

This can be a bit frustrating if you're someone who likes to keep an order of what you'd like to learn first. However, this is not really a problem to learn, just that it can get confusing.


❌ Lesson content may be somewhat uneven

There is no doubt that order is not Lingualia's forte, since it randomly incorporates words such as verbs, nouns and adjectives, as well as images. In other words, you can study a topic referring to something specific and it shows you words or images that do not relate very well to the lesson. Although it is not a serious disadvantage, it could correct these minor mismatches for a better user experience.


❌ You have to pay to accelerate the unlocking of the lessons

In my opinion, this is the feature that could stand out the most, since the lessons already have a bit uneven material, repetitive exercises and also short ones. Waiting 7-6 hours for the next lesson to unlock can be a bit frustrating.


---
Detailed description
What is Lingualia?

Lingualia is a very popular app to learn English focused on learning the language through didactic explanations and constant practice. This application works on different aspects of the English language such as grammar, vocabulary, exercises, and comprehension.

One of the most striking advantages is that you can use it for free, which although it is limited, you can take some advantage of it.

Downloading Lingualia English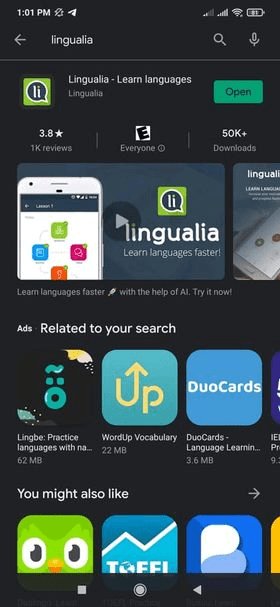 We start by going to the most popular download areas:
PlayStore
or
AppStore
. Fortunately, the app can be downloaded quickly, which is a plus point, since it does not weigh much.
Registering in Lingualia: log in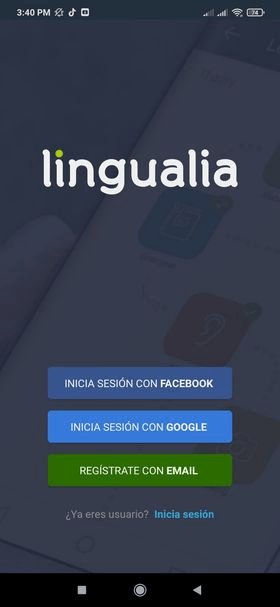 Once installed, the first thing the application will show you will be the name "
Lingualia
" and it will ask you to register, giving you three options to choose from. You can start in the following 3 ways:
Facebook
account,
Google
or with your email.
From the beginning,
Lingualia
makes the steps simple and to the point without much configuration, which makes it quite practical and without much detours.
Selecting the right level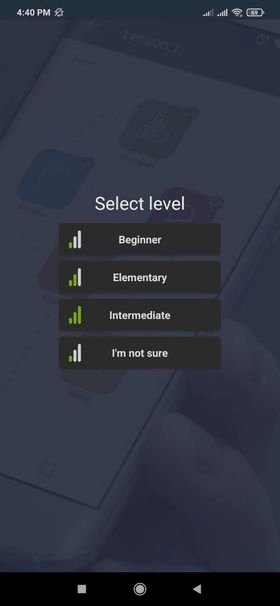 Before you start interacting with the app, it asks you to select between Spanish and English, since the instructions of the activities will be reflected in the language you want.
Right after that it will show you 3 levels to choose from, "beginner, elementary, intermediate".
In case you don't know which level to select, pressing the "I'm not sure" button will send you directly to level
A1
(beginner).
Now, if what you want is something a little more advanced for you, in the section with the 3 dots where it says "my courses",
Lingualia
reveals a fourth level to select called "Upper intermediate".
What can you learn with Lingualia?
The app has a dark and uniform range of colors where gray, green and charcoal stand out, making it different from the rest of the apps that normally have light colors.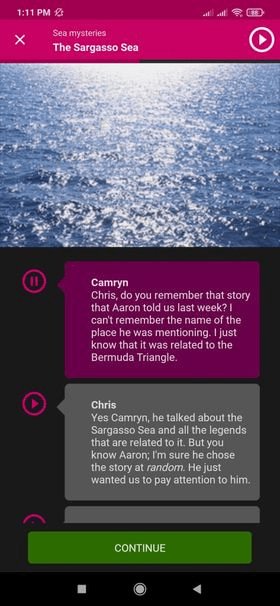 However, there are parts where it displays the content in two other colors, such as magenta, blue and red, but green, gray and charcoal are the predominant ones.
These additional colors refer to different sections. For example, magenta represents dialogue, blue represents grammar, and red represents phonics.
Using the app for the first time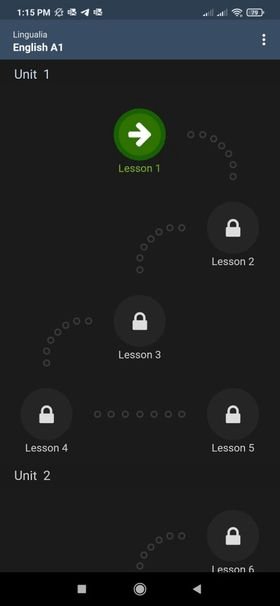 It has a particular and original way of presenting the units and their lessons.
It shows you how the lessons in a random way until you reach a goal where you receive a small certificate that the app gives you right after you have completed all the activities of the selected level.
We already know that
Lingualia
offers at least 4 different levels:
➡ Beginner –
A1
➡ Elementary –
A2
➡ Intermediate –
B1
➡ Upper-Intermediate –
B2
Each level has 10 units and each unit has 5 lessons. Unfortunately, there is no "fast-track" to move between units to reach the finish line. You must complete everything in order.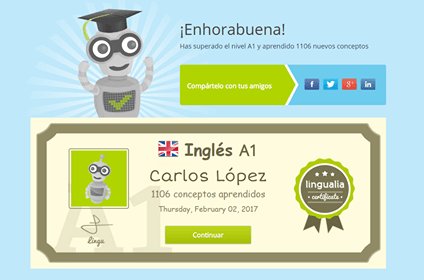 How does it work?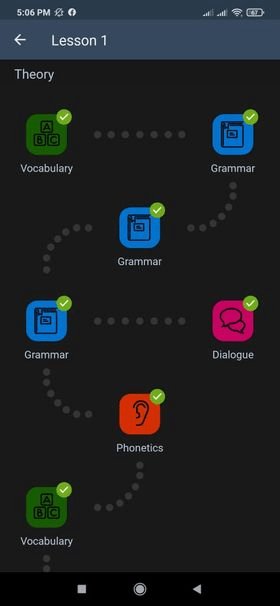 Each lesson has different little segments dedicated to learning vocabulary, improving listening comprehension, studying grammar and learning a little about the distinction between words; in the same way, all these items follow the same structure and they "meander" until they reach the end.
Not all lessons will have the same amount of vocabulary or grammar section; these may vary by lesson.
Within the same featured activities you can find "scrambled words" exercises — or disorganized words, select the correct image according to the word, select the concept that best describes the word or complete the sentence with the most appropriate word.
Something important to know is that you cannot select the activity in the order that you prefer. On the contrary, you must do everything in the order that they show you, otherwise you will not be able to advance.
Once you finish one activity, the other will automatically be unlocked and so on until the lesson is finished.
When you get to the "checkpoint" part, Lingualia tests your knowledge by playing a kind of game where you put into practice what you've seen so far.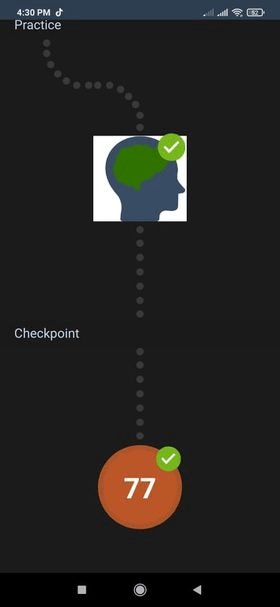 Even to make it more motivating, it shows you how many points you must accumulate to acquire certain medals:

➡ Bronze – Third place

➡ Silver – Second place

➡ Gold – First place
Lesson content

Now that you know what each color represents, let's take a look at what the lessons offer.


Vocabulary

At the beginning of each vocabulary activity, it will show you a list of words to learn.

Once you press "start", you will see definitions in English, an audio button to listen to the pronunciation and you will also see the phonetic transcription of the word.

One important thing to know is that the app's English works with a British accent, not an American one.
Grammar

At the beginning of each grammar activity, it will also teach you the points you will learn. For example, in this case in Unit 1 lesson 1 in the grammar area you will see:
- Pronouns I – They - Verb to be – Present tense Affirmative Singular and Plural
After that, you will see that each grammar lesson has an explanation of the topic in English plus a couple of examples and a couple of simple exercises.
Phonetics

This section tends to vary a bit since you will find activities that involve the correct pronunciation of letters, distinction of words such as "homophones", among others as well. In addition, of course, there will be a small exercise to complement.
Dialogues

In short, my favorite part of the app would be the dialogue section. Each lesson has a short listening comprehension part. Basically you will find 2 different and short conversations where you will even have the transcript of what they say in order to guide you.

It is clear that American and British English differ mostly in the pronunciation of many words. That is why if you are interested in sharpening your ear and improving your British pronunciation, it will undoubtedly help you to polish that accent, since you can imitate the sounds.
Prices

It could be said, perhaps, that this is the part that makes many of us hesitate about whether it is really worth it or not. Don't worry, you don't have to run away like that.

Luckily, you can use it freely and get rich. However, at the end of a lesson you will have to wait a few hours before the next lesson is unlocked, if you do not want to wait that long, then you will have to pay at least 25€ per month, 15€ for three months and 10€ for six months.
Teacher's opinion

After having followed up on how the app is structured, you will be able to decide if it is the most suitable option for you as a user or not. Personally, something that makes the app attractive is that the steps to follow are short and to the point.

However, it is important to keep in mind that ease of access is not everything. The content must be trustworthy and highly supportive. It is true that many of the English apps offer and emphasize different areas of the language. Some more than others in grammar or vocabulary, but Lingualia will sum it all up for you.

Lingualia, for example, is characterized by being a varied English app, which means that it has a little bit of everything. Like any application, these have their advantages and disadvantages. Let's see some of them.
Is it worth downloading?
If you are looking to improve fast in the area of ​​grammar and expand your vocabulary a bit, it is worth downloading.
Of course,
Lingualia
will show you a little bit of everything, but not in depth.
Personally, I feel that it can be used to your advantage if you want to sharpen your ear a bit and improve your British English pronunciation. The app gives you enough to get you started with something. Plus, it might even develop your interest in phonetics and make you investigate how phonemes work.
---
Start using Lingualia
Reviews
January 2022




The free version of Lingualia could make a good option for intermediate or advanced learners that want a casual, convenient way to keep their English or Iberian Spanish skills sharp. It probably isn't the best option for beginners, those looking for a one-stop-shop resource, or students of Latin American Spanish.

English