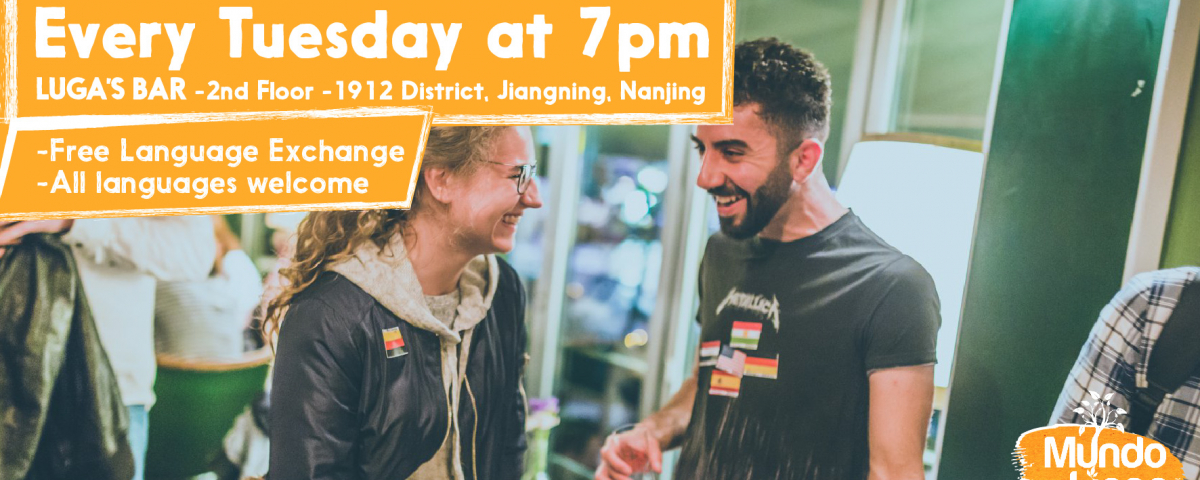 Date: Feb 19, 2019
Time: 19:00
Number of Attendees expected: 100
Phone number: 18051593171
全球最大的语言交流活动Mundo Lingo来南京啦!

你好! Hello! Bonjour! Hola! Halo! สวัสดี こんにちわ... Welcome to Mundo Lingo Nanjing!
Mundo Lingo is a worldwide social project uniting locals and internationals in cities across the planet. Just remember:
- Native language at the top to weakest below.
- Stand to mingle, sit to quit!
Introduce yourself, let us know who you are, the languages you speak and when you're coming to Mundo Lingo! We will give you flags stickers representing your languages! The best part, it's totally free!
People are very friendly and inclusive of new participants, it's a special kind of community and our unique flag system helps to break the ice, open a conversation; whilst enjoying a drink.
No registration required. Mundo Lingo is free and always be, the only way we have to promote our events is with your help. If you like what we do, support us by sharing our events and invite more people to this group!
................................................
Location: Luga's Bar, 1912 Baijia Lake district
Time: Every Tuesday, 7 pm, starting from 10th July
Nanjing China
How do I get there?
If you come by public transportation, the easiest way is to take metro line 1 and get off at Baijia Hu station. Once you get out of the metro station, you will find a huge shopping mall, Kingmo. The 1912 district is just behind Kingmo, to its west. The Luga's Bar is beside the eastern gate of 1912 district and opposite to the sky wheel. If you come by bus, choose one of the following: 792,801,848,851,852,853,868,869,G70,Y30,Y36 and get off at Baijia Hu (百家湖站).