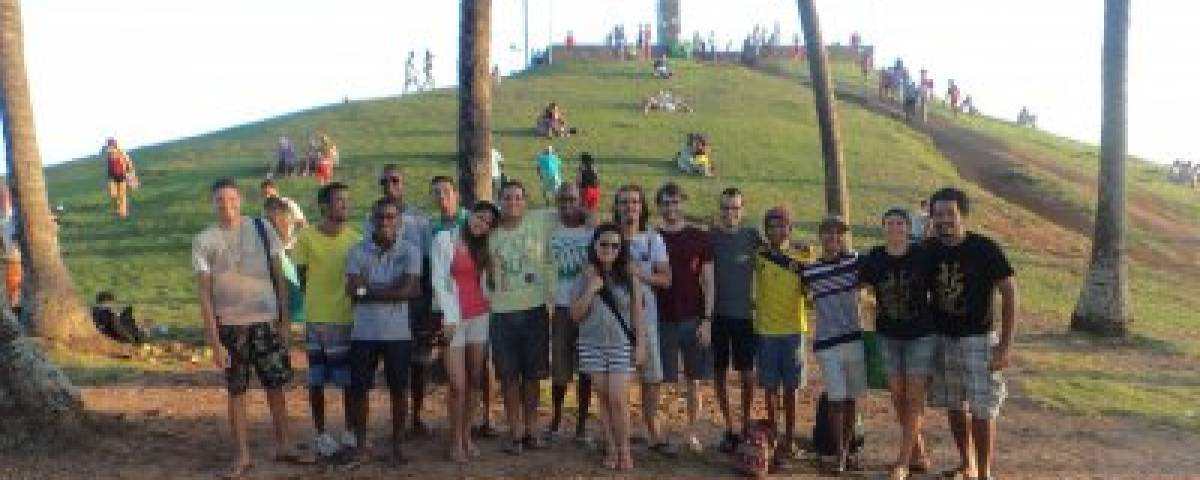 תאריך: Aug 20, 2017
Time: 15:00
כתובת: Morro do Cristo da Barra
מספר המגיעים הצפוי: 100
מספר טלפון: +557181027907
A meeting to encourage CONVERSATION, socializing and exchange of experiences and knowledge among the polyglots, students and language lovers who are in Bahia. Free multilingual oportunity!!! 
Feel free to invite your friends, everyone is welcome !!!
In meetings we have several languages, but languages depends upon the participants then try to have variety always have a greater number of people present.
>>> Warning and Informational <<<
1. Lead study material to display, exchange, giving is a good idea and is encouraged. 
2. If possible bring musical instruments and / or games is also a good idea and is also encouraged. 
3. Bring sunscreen, sunglasses, mats, sarongs, drinks (especially, water) and food are recommended.
---
Um encontro para incentivar a CONVERSAÇÃO, confraternização e troca de experiências e conhecimentos entre os poliglotas, estudantes e amantes de idiomas que estejam na Bahia. Gratuitamente em vários idiomas!!! 
Sintam-se a vontade para convidar seus amigos, serão bem-vindos!!!
Nos encontros temos várias línguas, mas as línguas depende dos participantes, então para ter grande variedade tentamos ter sempre uma maior quantidade de pessoas presente.
>>>Avisos e Informativos<<<
1. Levar material de estudo para mostrar, trocar, doar é uma boa ideia e é incentivado. 
2. Se possível levar instrumentos musicais e/ou jogos também é uma boa ideia e também é incentivado. 
3. Levar protetor solar, óculos escuros, esteiras, cangas, bebidas (especialmente, água) e comidas são recomendados.
Comments
EderCosta

Boa noite, sou iniciante no aprendizado da lingua inglesa, gostaria de saber, se esse encontro no cristo da Barra, vai acontecer,? fiquei bastante interessado, e pessoas iniciantes poderam comparecer?

Desde já, agradeço.

Abraço
EderCosta

Oi Priscila, que legal, espero um dia aparecer então, mas como faço para encontrar com a galera, tem grupo no whats, que eu possa estar acompanho os encontros ? =D
Priscilasoareslt

Oi Eder. Pelo que me informei, sempre acontece, regularmente. Quero participar em breve. =)